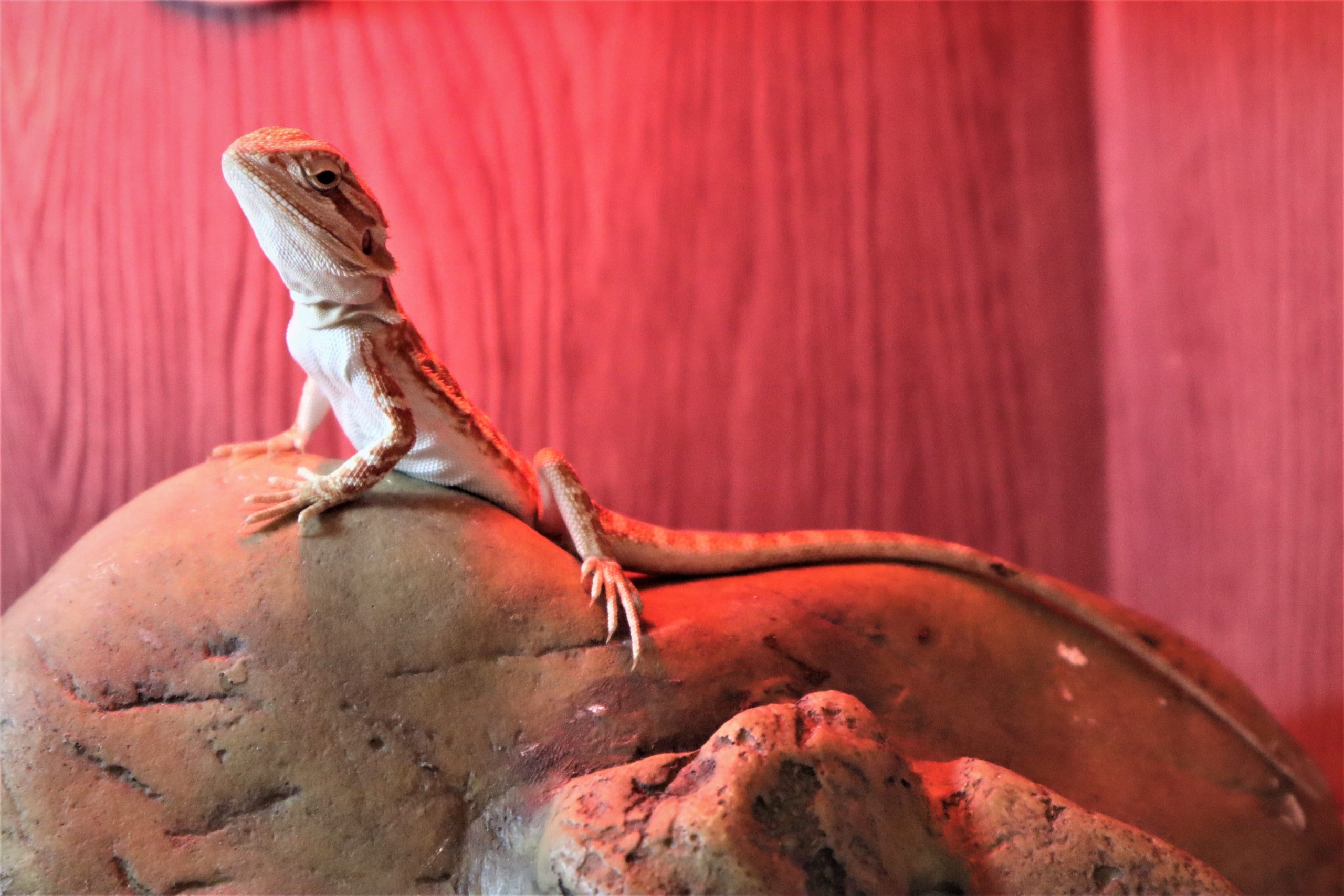 A Bearded Dragon relaxing on a rock in its enclosure.
Morgan Willis took over Atlantis Pet Store, located at 2821 NE Stephens Street, on Aug. 1, 2020. Since then, she has made many new additions including, a new paint job, counter, and snake room. As well as new signs, decor, tanks, small animal racks, plants, reptiles, fish, and natural fish decorations. 
Willis has always been fascinated with animals. She has memories of walking back to her childhood home with a lizard or a big snake wrapped around her arm.
Morgan's father, Lee Willis, has always had a love for exotics.
Morgan Willis said, "He would rush to take my picture." Willis has had reptiles since she was very young and has had lots of experience with them. Because of this, she applied for a job at Atlantis in 2018.
Owning Atlantis is a dream realized for Willis.
"After getting hired, I worked as an employee from 2018-2020 under the management of Kelly Weaver. Kelly had mentioned to me multiple times about taking over the shop and how it would be a perfect fit for me. If someone would've told me I would be running a small business at 22 years old I would've laughed! It has been a dream come true and I wouldn't trade it for anything," Willis said.
It took a lot of work to refurbish Atlantis. Willis said, "We have worked so hard since August first to update the building and our supplies. Taking over a business in the middle of the pandemic has been a challenge but with the help of my dad and amazing staff, we have accomplished a lot and are very excited to keep expanding!"
The most noticeable change is the bright green paint job the store has gotten. "The color of the building is actually called "Lazy Lizard Green." After many meetings, while talking with my dad and staff, we agreed that a tropical color would fit the best and would stand out. Before the building was hard to find and we would get calls constantly due to customers wanting directions to the store. The gecko signs were designed by my dad and the font was my idea."
One of their most recent additions is a snake room. Willis said, "We started the snake room in March and it's still not finished. We find it beneficial for customers to be able to see most of our snakes in one spot, and it's also easier for us to control the temperature in an enclosed room."
Atlantis has been in Roseburg for more than 10 years.
Like many other small businesses, Atlantis has struggled from COVID-19.
"I feel like COVID is the most challenging part, I will place huge orders each week and receive less than half of what I ordered. It's frustrating to some but most of all it frustrates me because I want to be able to stay fully stocked for our customers and their animals," Willis said.
Atlantis Pet Store has staff who can help with any pet-related questions and concerns, from rodents to reptiles, fish to amphibians, and birds to invertebrates. They also have the supplies and equipment needed to ensure that your animal is happy, healthy and well taken care of.
"This is my dream," Willis said. "When you love your job and wake up excited to go to work, you know you're living your life right. I love being able to give customers advice and watching them leave the store happy and in good hands. My staff and I have a lot of trust built with our customers and want them to walk through our doors and feel welcome. Another thing I enjoy is all the wonderful people that compliment Atlantis and all of the new upgrades since the transition. I really appreciate all of our loyal customers who are bearing with us during the hard times of not being able to receive everything I order."