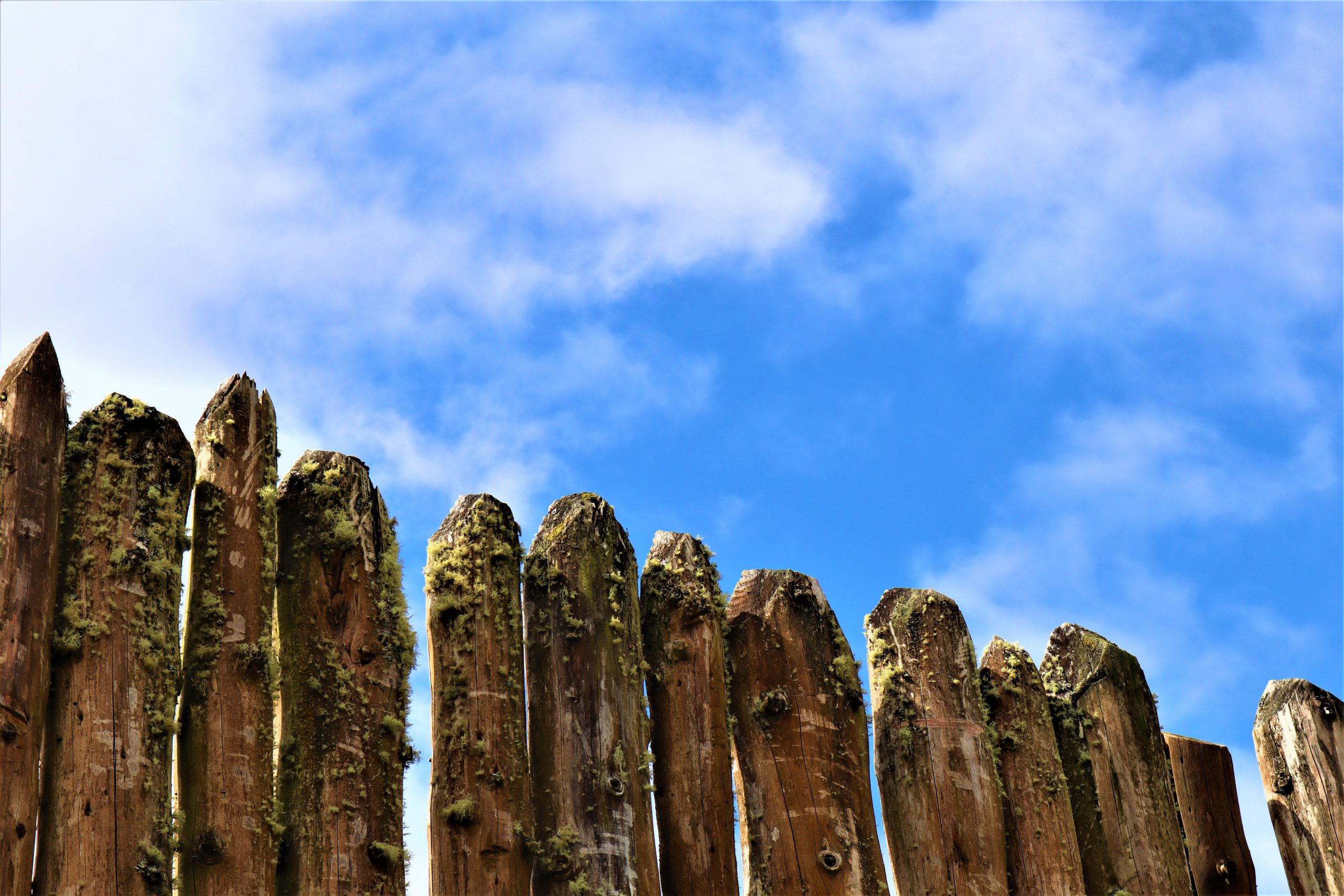 The very top of the fence surrounding ECEC's Fort Umpqua on Saturday.
Last Saturday, volunteers helped clean the Elkton Community Education Center and a replica of Fort Umpqua, from the mid-1800s.
Deborah Gritton, community education assistant, said, "Each spring, volunteers and staff open the buildings, do a good deep clean, and bring items out of storage and get displays set back up."
In 2016, the Elkton Community Education Center completed a replica of Fort Umpqua on the east bank of the Umpqua River on Highway 38. Open to the public, it features living history exhibits.
"Our replica of Fort Umpqua sits near the river, with the actual front of it facing the river–much as it would have, originally," Gritton said. "It faces the river because the river really was the 'highway' back then. There weren't roads, and many of the people who came to the fort did so by boat."
The original Fort Umpqua was used primarily for fur trade.
"In 1836, it was established by Hudson's Bay Company to support its goal of controlling the world's fur trade," Gritton said. "Their goal in this area was to trap out all the beaver and resources to prevent competition from other traders and to slow/stop westward expansion and settlement of American pioneers. What is now known as the state of Oregon was once claimed by both America and England. This area was claimed by the British, and farther east and south was claimed by the U.S."
Fort Umpqua is ready for visitors who are free to walk the grounds, look in the buildings, and take themselves on a self-guided tour. Their hours are currently from 9 a.m. to 4 p.m. Tuesday through Saturday.
Staff-guided tours will start in June.
"In the summer, we employ high school students to guide people through the complex and talk about what life looked like back then," Gritton said.
Many people enjoy learning about Fort Umpqua and that the British had claimed this area.
"Folks are also amazed that a community of volunteers came together to rebuild Fort Umpqua with much detail as to how it was originally done while adhering to current building codes and staying within budget," Gritton said. "It was a labor of love undertaken by retired men and women, other community members, students, businesses, and national service organizations. It was all done on a shoe-string of a budget (there was no federal or state funding used) with donated labor and materials!"
Gritton loves learning about and working on Fort Umpqua.
"I am really excited to learn more about the relations between HBC and its employees and the Native American tribes of people that already lived here before them," she said. "I believe it is important to learn history as wholly as possible — from different perspectives to see a more complete picture of what really happened in the past."
If you are interested in Fort Umpqua, there are many different activities you can do there.
Gritton is excited for the summer.
"We are hoping to have kids' activities and educational workshops twice a week, and one family-friendly event each month," she said. "We are also looking forward to a Living History day in July, where we will have historical reenactors and interpreters at Fort Umpqua available for the public to interact with and learn what a day in the life of folks living in the mid-1800's was like. Labor Day weekend, we are hoping for a Fort Umpqua Days that is bigger than last year, though we know it won't get to be quite back to pre-pandemic normal."
Chloe Garcia, volunteer from Fremont FBLA, helps clean up the buildings inside ECEC's Fort Umpqua last Saturday.
One small piece of the large Fort Umpqua replica last Saturday.
A view from far away of the entire Fort Umpqua recreation last Saturday.