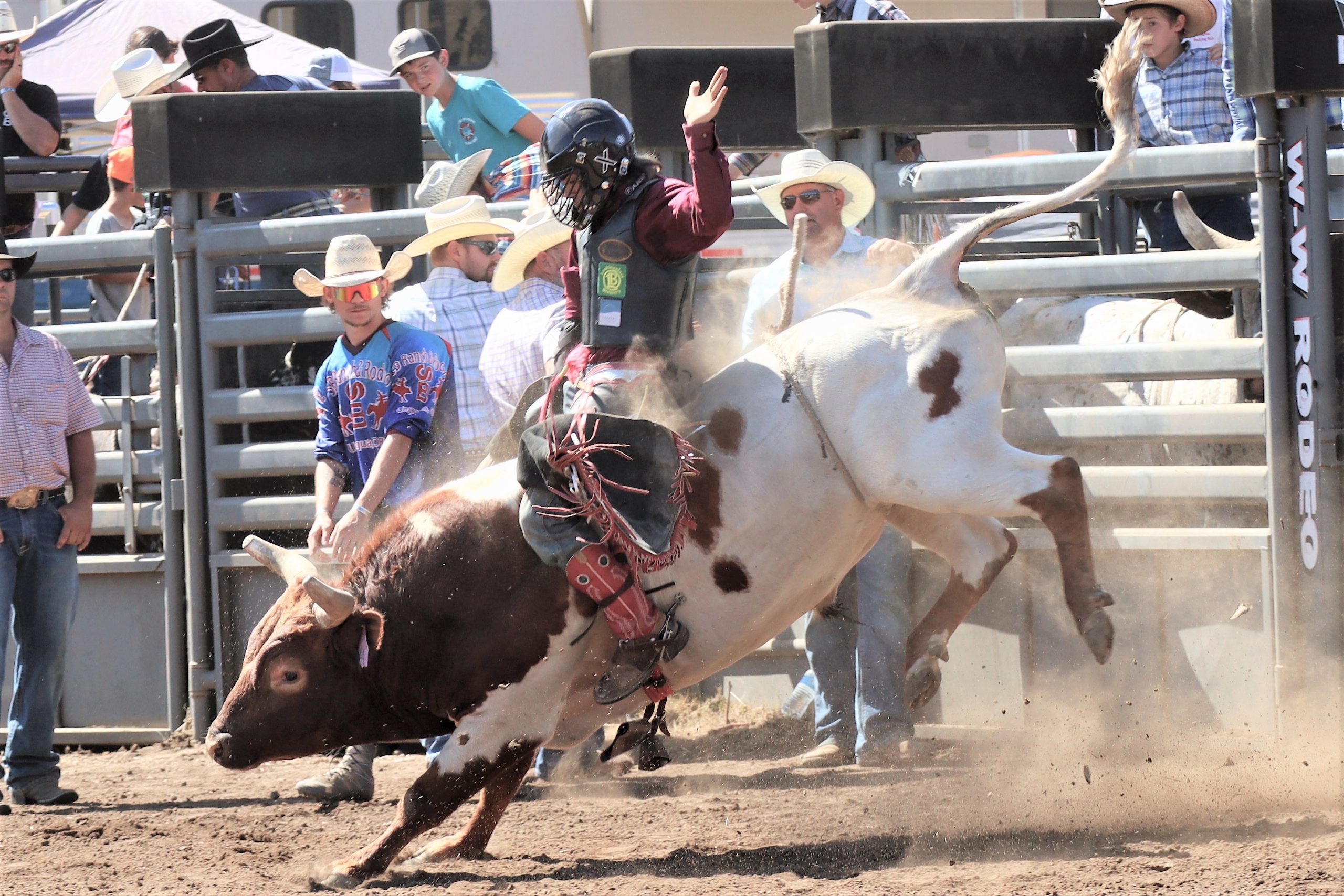 Kaden Schlatter, 17, of Roseburg has a solid ride on Wrap It Up Ralph in Senior Bulls event on Sunday.
The kids in the Northwest Youth Rodeo Association have been keeping calm and riding on. Last weekend cowboys and cowgirls, ages 4-19, competed in the second doubleheader rodeo that has taken place in August at the Rodeo Arena that belongs to the Cow Creek Umpqua Tribe in Canyonville. The rodeo was open to all NWYRA members.
According to the NWYRA, "The Northwest Youth Rodeo Association provides an opportunity for kids to expand their world to include the sport and challenge of the rodeo. NWYRA is a training ground for future rodeo champions. All skill levels are always welcome with a wide variety of events to sharpen those skills and learn new ones."
From Pre-PeeWee dummy roping to Senior Bull Riding, the rodeo provided a wide range of events for the participants.
Scarlett Langdon, 9, of Oakland said, "My favorite event is poles, I get to do a weave pattern. And my times keep getting faster." She added that cheering on her friends is very fun as well.
"My favorite event is the bull riding because of the adrenaline rush that it gives me," said Kaden Schlatter, 17, of Roseburg.
Schlatter made it to the National High School Rodeo Finals in Guthrie, Oklahoma, this year. He said, "I think competing in the NWYRA helped prepare me for competing in the NHSRA (National High School Rodeo Association)."
Kids really appreciate NWYRA holding rodeos this year despite the ongoing pandemic.
Mccoy Henderson, 6, of Umpqua, said, "I like rodeos because I get to see my friends." Kaside Ashbaugh, 5, of Yoncalla, said " My favorite event was goat tail untying because I get to jump off my horse and pull the ribbon from the goat's tail." Her sister, Haiden, 5, added that she enjoyed galloping home on her horse, Cowboy.
Nataly Mattox, Pre-PeeWee Co-Manager for the NWYRA, said that there are rules in place encouraging safety, such as proper equipment, procedures, and even rules in specific events. Mattox said, "The NWYRA has held a rough stock school for the past couple of years. This was in hopes to gain more safety and success for the kids who ride the bucking animals."
Across the country, the sport of rodeo has been severely affected by COVID-19. "Most rodeos from the junior level to the professional level have been canceled," Mattox said. "Once we were able to ensure that we could socially distance during the event (contestants and personnel), we just needed to find a facility that would support the rodeo."
Fortunately, Cow Creek provided a place for the NWYRA to hold their rodeos. Trevor West, 17, traveled from The Dalles to compete in the NWYRA rodeo. West said he appreciated the nice facility located by the river and added, "Thank you to the community for allowing us to come and compete."