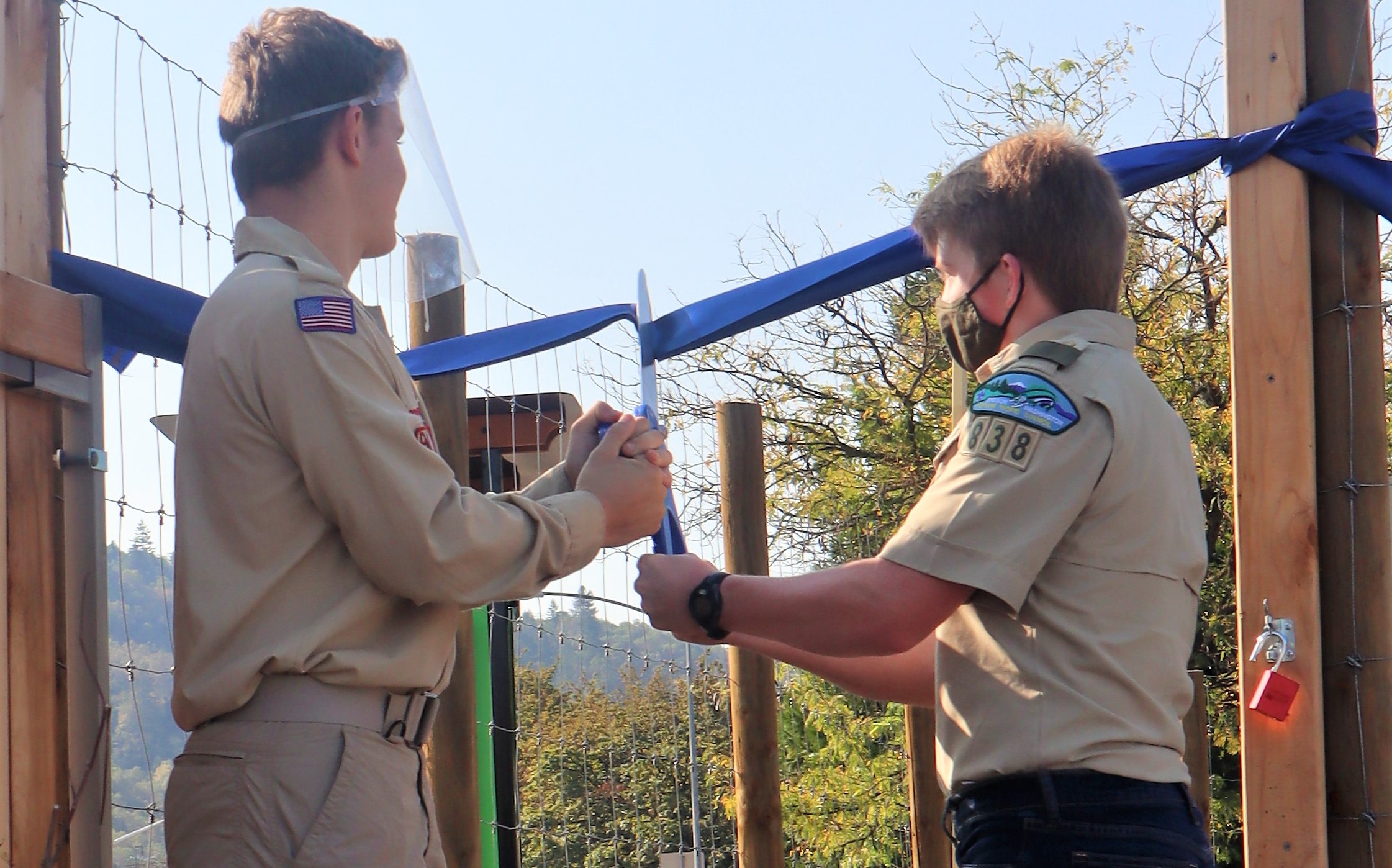 Eagle Scouts Taylor Lander, left, and Sam Cordon get the honor of cutting the ribbon for the opening of the Gateway Community Garden that they both worked on Saturday.
Umpqua Community Veg Education Group had its ribbon-cutting ceremony for its newly-established Gateway Community Garden last Saturday.
The project fundraising was complete in September 2019, and the agreement with the city was signed in October 2019. After that, construction got started.
Zenya Ledermann, community garden coordinator said, "It took almost exactly one year to complete construction and open the garden due to COVID."
According to Ledermann, Umpqua Community Veg Education Group is a community effort with the purpose of supporting those fascinated in learning about holistic lifestyle tactics along with the wide-ranging advantages of eating more whole plant-based foods.
The purpose of the garden is to decrease obstacles to nourishment, develop access to fresh foods, provide hands-on learning and community connection, and assist low-income households in the southeast Roseburg food desert. The goal of these gardens is to get people more involved in the community.
Ledermann said, "Anyone is welcome to use the garden! We have plots available that people can sign up for, they are $25 for the year, and gardeners can come in and use as they please. We are hoping to get people living in southeast Roseburg more involved in the garden so they can have better access to fresher and more nutritious foods than they may be able to currently obtain."
The Blue Zones Project decided to pursue this garden in 2018. Ledermann said, "The Blue Zones Project secured partnerships with the neighborhood association and non-profit South East Roseburg Voice in Community Enhancement (SERVICE) that serves the SE Roseburg neighborhood as well as Neighbor Works Umpqua to give liability coverage and garden management. BZP then lined up a Boy Scout interested in supporting the garden build for his Eagle Scout project and facilitated fundraising efforts through mini-grant programs and civic club donations with the Boy Scout assistance. This garden was a community effort and had many people and organizations as part of the process."
The Eagle Scouts that got involved were Taylor Lander and Sam Cordon. Lander worked primarily on the plots and Cordon worked on putting up the fence. Lander said at the opening that he got involved in the project so that other people could enjoy gardens as much as he enjoys his.
A lot of effort was put into establishing this garden. "We would like to thank our sponsors and funders for making this a reality! There were many involved in this project including, Blue Zones Project Umpqua, Boy Scouts Troop 109, CHI Mercy, The City of Roseburg, Cow Creek Foundation, Ford Family Foundation, Kiwanis Club, NeighborWorks Umpqua, Rotary Club, Roseburg Senior Center, SERVICE, and UC-VEG," said Ledermann gratefully.
To learn more visit https://ucveg.org or Facebook page @UCVEG and @SERVICEgardens for details and updates. Ledermann said, "Our hope is to get everyone more involved in the community and contribute to a more sustainable and healthy way of eating."