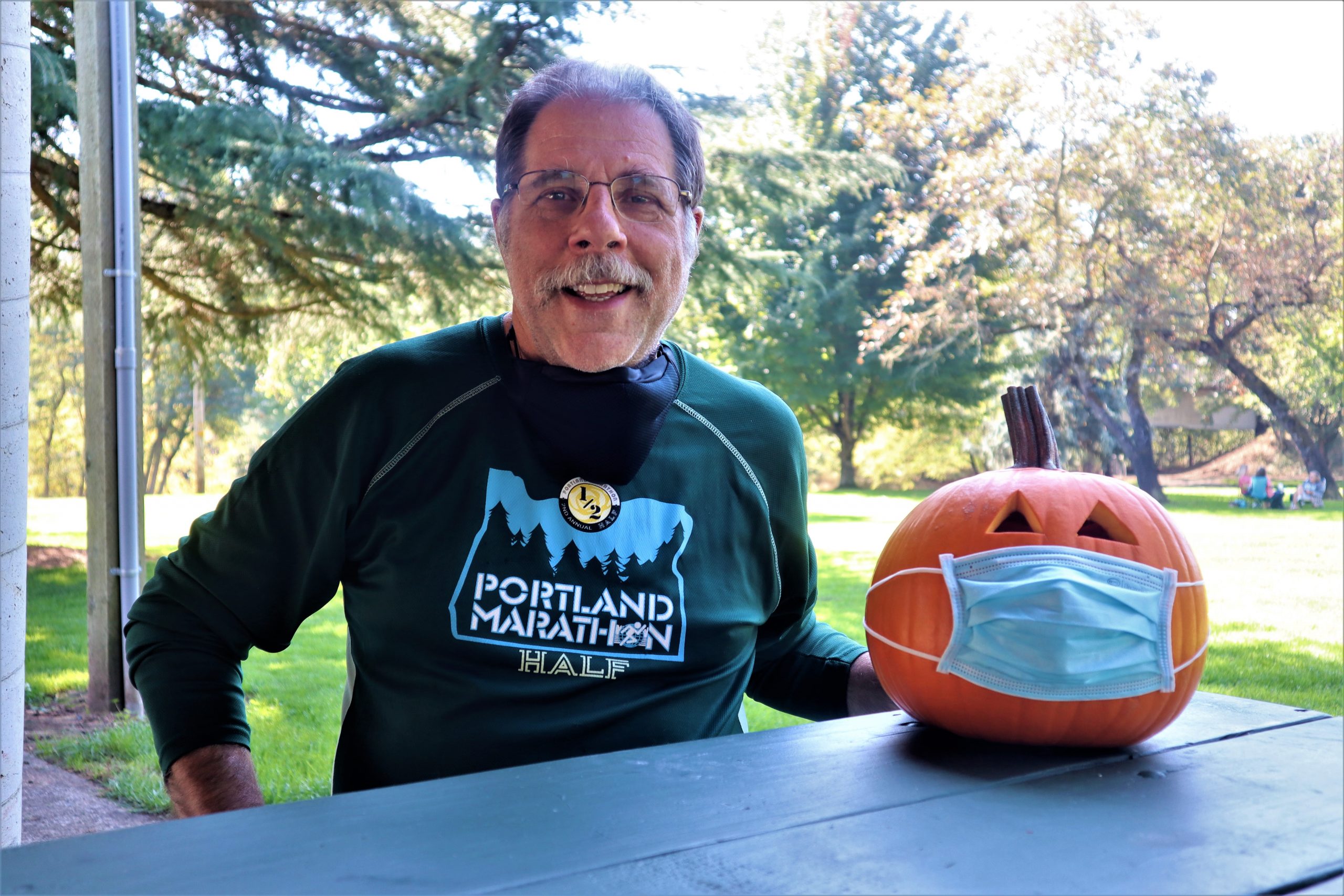 Dr. Dannenhoffer shows off a pumpkin responsibly wearing a mask at Stewart Park on Saturday.
The air is getting cooler, the leaves are falling and the holidays are fastly approaching. This time of year is flush with traditions and family enjoyment. Dr. Bob Dannenhoffer, Douglas County Public Health Officer, offers some ideas on how families can still have a great time while being safe in the time of COVID-19.
Many people are wondering if it's safe to go trick-or-treating for Halloween. Dannenhoffer said, "If you go trick-or-treating with a family group, if you wear a mask, if you do it outdoors, and if you maintain 6 feet of distance, then it's pretty darn safe."
To minimize the risk while taking kids door-to-door, it is important to socially distance, wear a mask, go with a family group, and to follow normal Halloween safety guidelines.
Socially distancing is key to having a safe Halloween. Dannenhoffer presented a new way of handing out treats he calls the candy chute. This spooktacular device lets you safely transport goodies from your porch to the awaiting bags of trick-or-treaters. All you need is a piece of PVC pipe that's a little more than five feet long, and something to cut it with to make a small curved opening at both ends. You can also use cardboard, such as a wrapping paper roll. When Trick-or-Treaters come to the door, amaze them with your supernatural invention while staying a safe distance away.
Dannenhoffer said, "I think it's actually more fun than handing it out because I could imagine the kids are going to be trying to catch it at the bottom. I think it's going to be great."
Another essential piece of advice is wearing a mask. Dannenhoffer said, "You should be wearing a cloth mask rather than just a costume mask." Often Halloween masks have holes, so they can't provide complete protection. Whether you're handing out candy or collecting it, wearing a cloth mask is an essential part of the costume.
Going with a family group can decrease the spread potential during Halloween. Trick-or-treating with people that you have already been exposed to is the way to go.
Dannenhoffer said, "We'd like people to maintain distance and be in small groups, the best groups are family members or people that you've already otherwise been exposed to."
Following usual Halloween safety precautions is another good thing to do. Dannenhoffer said, "We want people to have the regular safety things that you do for Halloween. If you're going to be going out after dark to wear reflective clothing, walk on the sidewalks, and be careful of strangers."
If trick-or-treating seems too risky, there are some other creative things that Roseburg residents can do this Halloween.
The Douglas County Fairgrounds will be home to a drive-thru haunted house from 7 to 10 p.m. Oct. 30 and 31.
Dannenhoffer said, "They have a drive-thru underneath the grandstands at the fairgrounds, so we're gonna open that up so it will be open air. Then we're gonna have little hayrides where individual families can ride through."
The theme of the drive-thru haunted house is going to be a hospital asylum. Dannenhoffer said this is because everyone will already be in costume and naturally wearing face masks.
Instead of a line of cars while you wait there will be another fun option. Dannenhoffer said, "We're gonna be showing a movie on the side of the fairgrounds building so people can watch the movie while they wait."
With Thanksgiving and Christmas right around the corner, Dannenhoffer offered some additional safety tips for these holidays.
One thing that people can do to stay safe is to get a flu shot. There will be a drive-thru clinic for free flu shots on Oct. 16, Oct. 30, and Nov. 11 at the Douglas County Fairgrounds. Dannenhoffer said, "There's no cost for the flu shots and it should be quick."
Additionally, Dannenhoffer recommends that people limit their travel and the number of people that they have over for the holidays. "What we've seen is that when people travel, especially out of the area, we're getting a lot of disease," said Dannenhoffer. "So be careful if you're going out of the area or bringing people into the area."
People also need to limit the size of gatherings. "This is a time where people might have 20 people at their house and we think this is going to be really problematic for spread," Dannenhoffer said.
This year, Dannenhoffer suggests having a gathering with your direct family. Dannenhoffer said, "I really want people to enjoy the holidays. I want them to enjoy family, but I want them to be safe."