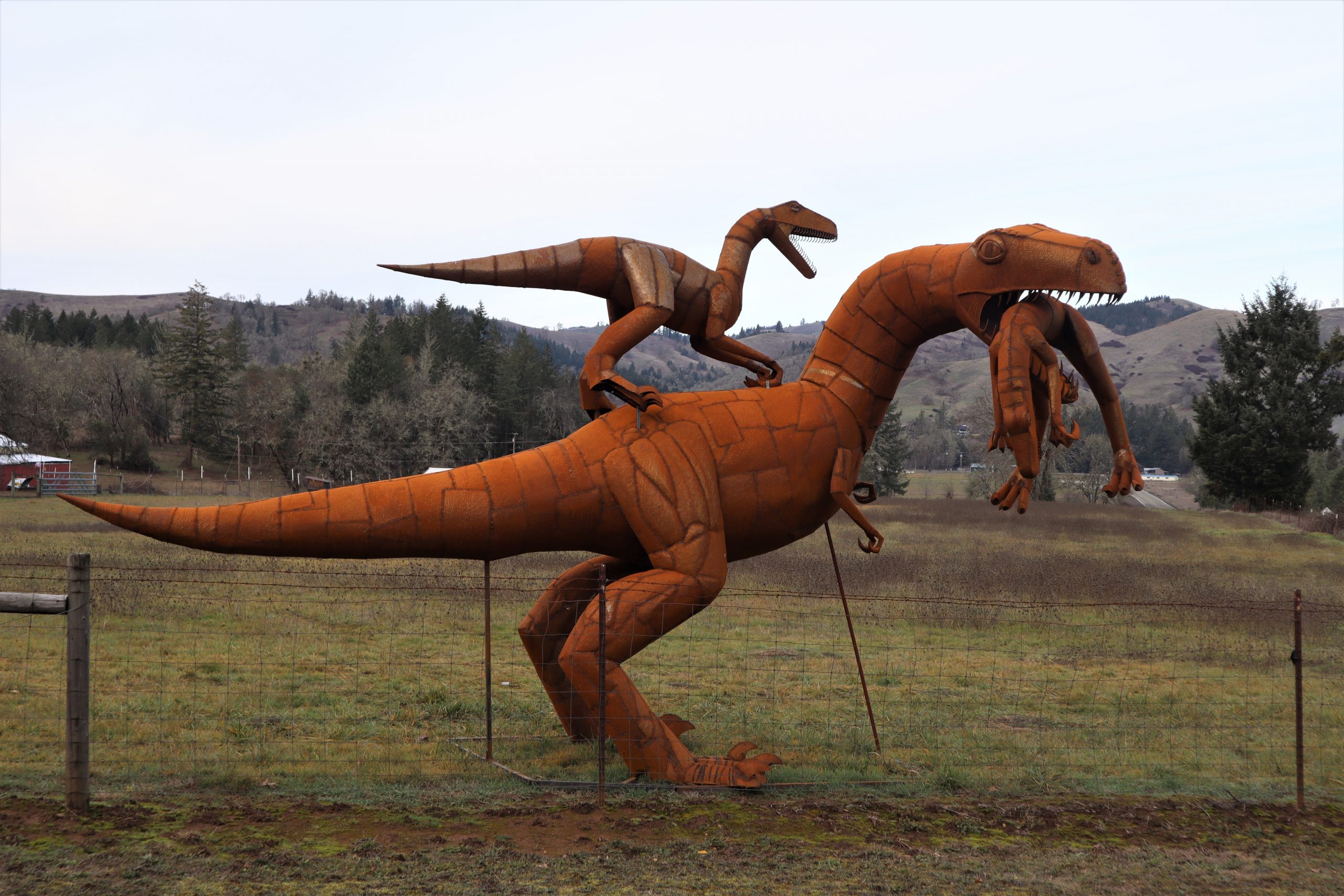 If you watch closely while driving around mile marker 13 on Highway 138 East near Glide, you might catch a glimpse of a dinomite roadside attraction.
If you're heading east, you will first see a 12 foot tall Tyrannosaurus rex.
"He's in the throes of a battle with two raptors and appears to be winning at the moment," said Chris LaMont, the owner of the sculptures.
"I did not create them. I sought them out. They were created by an artist in Mexico," LaMont said. "They are all unique, and I appreciate the details that go into each one."
There are another three dinosaurs wearing masks as you drive down the road. LaMont said they are wearing masks because they don't want to go extinct from COVID-19. The Brontosaurus is an impressive 15 foot tall and is accompanied by a smaller T. rex and baby dino emerging from an egg.
If you are lucky and have a bit more time, you might even catch a peek of the elusive Bigfoot.
"They were delivered by trailer, most required assembly by a gentleman named Paul, who has them made in Mexico. He always says it's a fun drive based on the interactions he gets on the road," LaMont said.
The LaMont family love the sculptures, especially the children.
"They love them and telling people about them," LaMont said. "They have become quite a landmark for us."
He chose the dinosaurs for the kids mostly and because "They are really cool."
People love to stop and look at the prehistoric sculptures.
"We get a lot of people that slowdown or stop. So far, all good and fun comments," LaMont said. "I wanted something to offset the beautiful Oregon landscape."
Three dinosaur sculptures being safety conscious by wearing masks on Sunday.

15-ft Brontosaurus sculpture on Hwy 138 Sunday.
A 7-ft Sasquatch stands near the LaMont's driveway on Sunday.