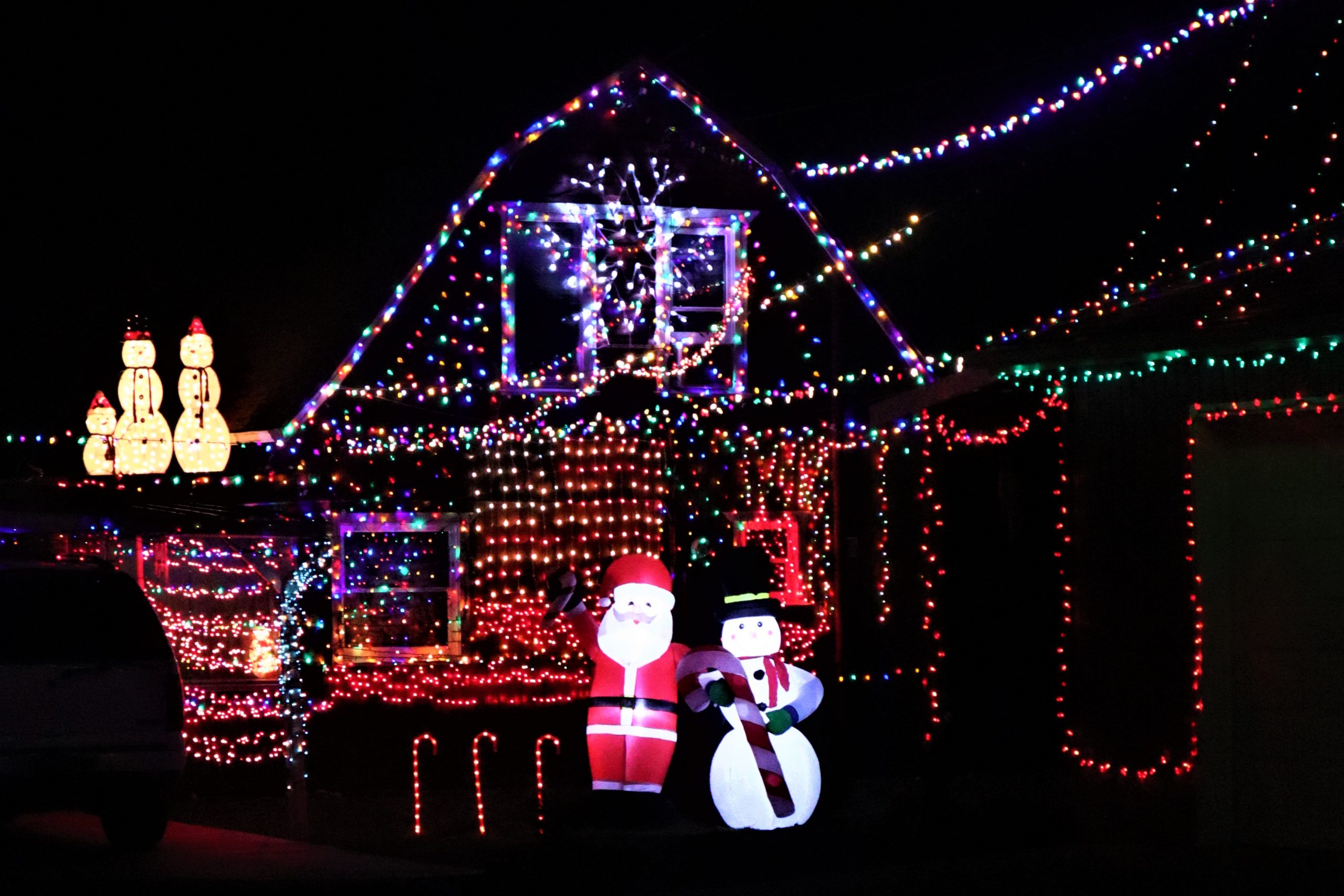 Decorated house in Hucrest on Tuesday.
Everywhere you go, Roseburg citizens are spreading cheer with decorations — from nativity scenes to holiday dragons and everything in between.
"Our officers have recently observed an increased amount of Christmas decorations," Roseburg Police chief Gary Klopfenstein said.
Due to COVID-19, many people are not going to be able to see their families over the holidays, but they can decorate their homes and businesses. Whether it be a few lights hanging from your roof or a glorious light show with hundreds of feet of lights and inflated characters everywhere, decorating your home might just make someone's day.
Lorelei & Al Deleza have a nine-year-old tradition of going all out with their Christmas decorations in front of their home on Nash Street. Lorelei said, "It's our way of sending out messages of love, cheer, and happiness to all who pass by…so that they can experience a bit of joy and wonder and pass it on to others. It truly brings joy to our hearts when we hear the many oooohs and ahhhhhs of people of all ages, gender, colors, shape, and sizes. It's such an absolutely amazing thing to share."
Shane Lanning and Jeff McDonald have put together a light display in front of the West View Court Apartments complete with an inflatable polar bear, snowman, Christmas tree, and Santa.
"We figured people could use something nice to look at this year," McDonald said.
Many holiday events and parties canceled, which can be a bummer.
"Our officers are incredibly invested in our community and have greatly missed interacting with the public at community events," Klopfenstein said. "Our officers always look forward to participating in events where we can give back, and help those in need. We were recently able to participate in Salvation Army's Dress a Child event, but due to Covid barriers were disappointed to not be able to have the annual Christmas Shop With a Cop event."
The City of Roseburg is participating in the Angel Tree Program from the Salvation Tree, which helps provide gifts for the children in low or no-income families.
"Many employees at the Police Department and throughout the City's various departments sponsored a child by purchasing Christmas gifts and stocking stuffers, to ensure that child is able to enjoy Christmas," Klopfenstein said.
If you haven't done so already, consider helping light up Roseburg this holiday season with some decorations or jump in the car and admire the work of others in your neighborhood.
You can also look into supporting your favorite local charity.
"Anything that helps spread cheer and, even if only momentarily, takes minds off the negativity associated with 2020 is a positive thing," Klopfenstein said. "We are all desperate to find positivity in these bleak times."