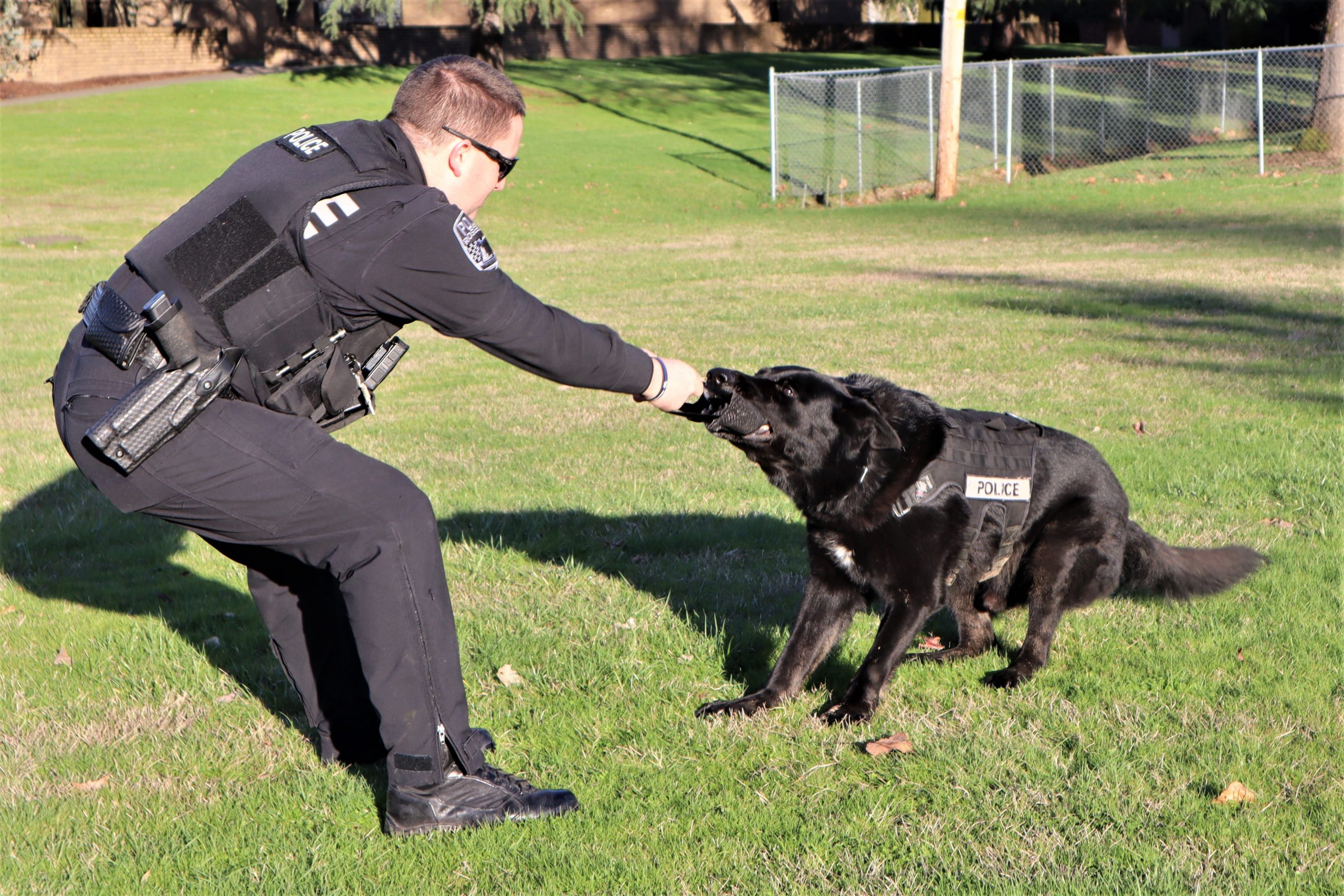 Officer Chris Bonebrake and his K9 Axel playing tug-of-war on Feb. 4.
Axel, an 8-year-old German Shepherd Dog, has served with the Roseburg Police Department for more than five years and more than three of those years he spent with Officer Chris Bonebrake. 
Over those years, they have built a strong connection.
"Axel tracks human odor and apprehends people by biting and holding them until that person is in custody," Bonebrake said. "This makes arresting dangerous suspects much safer for officers." The Roseburg Police Department has had K9 units since 2011.
Axel has helped apprehend nearly 50 criminals in the last year, some that made Bonebrake especially proud.
"Axel deployed to a residential neighborhood where a dangerous criminal ran from police and was hiding in someone's backyard," Bonebrake said. "Axel tracked through the neighborhood and found the guy hiding underneath a chair in the backyard of someone's house. Axel bit the guy and pulled him out where I could see him and his hands. If it were not for Axel, we would never have found the bad guy."
Bonebrake and Axel went through training all over the state and continue to train every week.
"Our training was 1 1/2 months long and took place all over the state of Oregon. We do follow-up training on a weekly basis and also attend training camps throughout the state with other dog teams," said Bonebrake. "Axel responds to German commands only and is from Germany."
If you see a police dog in public, it is OK to ask to pet it.
"Some dogs are very stable and friendly towards other people, and some are not," Bonebrake said. "We limit contact with the general public just so the dog maintains an edge and doesn't become domesticated too much.
"He is not overly aggressive towards other people unless he knows he needs to be. He does not like strange dogs or cats and barks and growls at them when he's in the car. Otherwise, he could care less. He would much rather work and play than get attention from anyone except me."
The dogs on the police force are highly respected.
"They are considered a part of the 'pack' and view other officers (the uniform) as a part of the team," Bonebrake said. "I will often bring my dog into the patrol room to play with other officers and strengthen that bond."
Gary Klopstein, Roseburg Cheif of Police, said, "Our patrol dogs are what we refer to as force multipliers; suspects often have more respect for one K9 than they would a group of officers. Our patrol K9s have aided in the capture of hundreds of suspects. In 2020 our K9 teams had over 40 captures, resulting in numerous felony and misdemeanor charges. Our department immediately looks for assistance from a K9 team when a suspect is fleeing, either on foot or in a vehicle. Police units responding to the scene know to immediately set up a parameter so the fleeing suspect tries to hide; this gives the K9 a better opportunity to locate them. Also, people often like the K9s, and want to pet and adore them; this provides the officer an opportunity to have a positive interaction with a citizen when they might otherwise not have."
Bonebrake describes his bond with Axel as "very strong, almost stronger than the bond I have with my fellow officers, simply because he rides with me in the car all day and I take him home every night. We have mutual respect as I know what Axel is capable of, and he knows his boundaries through years of training. We're very, very close, and I am thankful that I get to work with him."
Axel lives with Bonebrake where he has a kennel by the shop.
"He is very comfortable in his kennel but would much rather sleep in the car," Bonebrake said. "Axel is very easy to have at home and loves to chase his ball and play tug of war. He also plays tag with my other dog, and he just follows me around my property when I'm working outside."
Most often, the dog retires with the handlers. "We like to give the dogs a good life after they're done working since they've definitely earned it." The K9s at the department are generally between two and four years old when they start with the department, and they retire around nine years old.
There are a few different ways the community can help out the K-9 crew, including donating to the Friends of Umpqua Valley Police K9 Programs and donating bottles and cans to the program. Bags for the bottle drop are available at the Roseburg Police Department.
"Our dogs are capable of some amazing things, and they have aided in the apprehension of countless criminals in burglary, assault, and theft cases. Their abilities make the cost and time needed to start up a team well worth it, and their mere presence makes other officers much safer at work."
Officer Chris Bonebrake and his K9 Axel on Feb.4, 2021.
Axel in front of his K9 police car on Feb. 4, 2021.
Officer Chris Bonebrake and his K9 Axel in front of their K9 unit patrol car on Feb. 4, 2021.