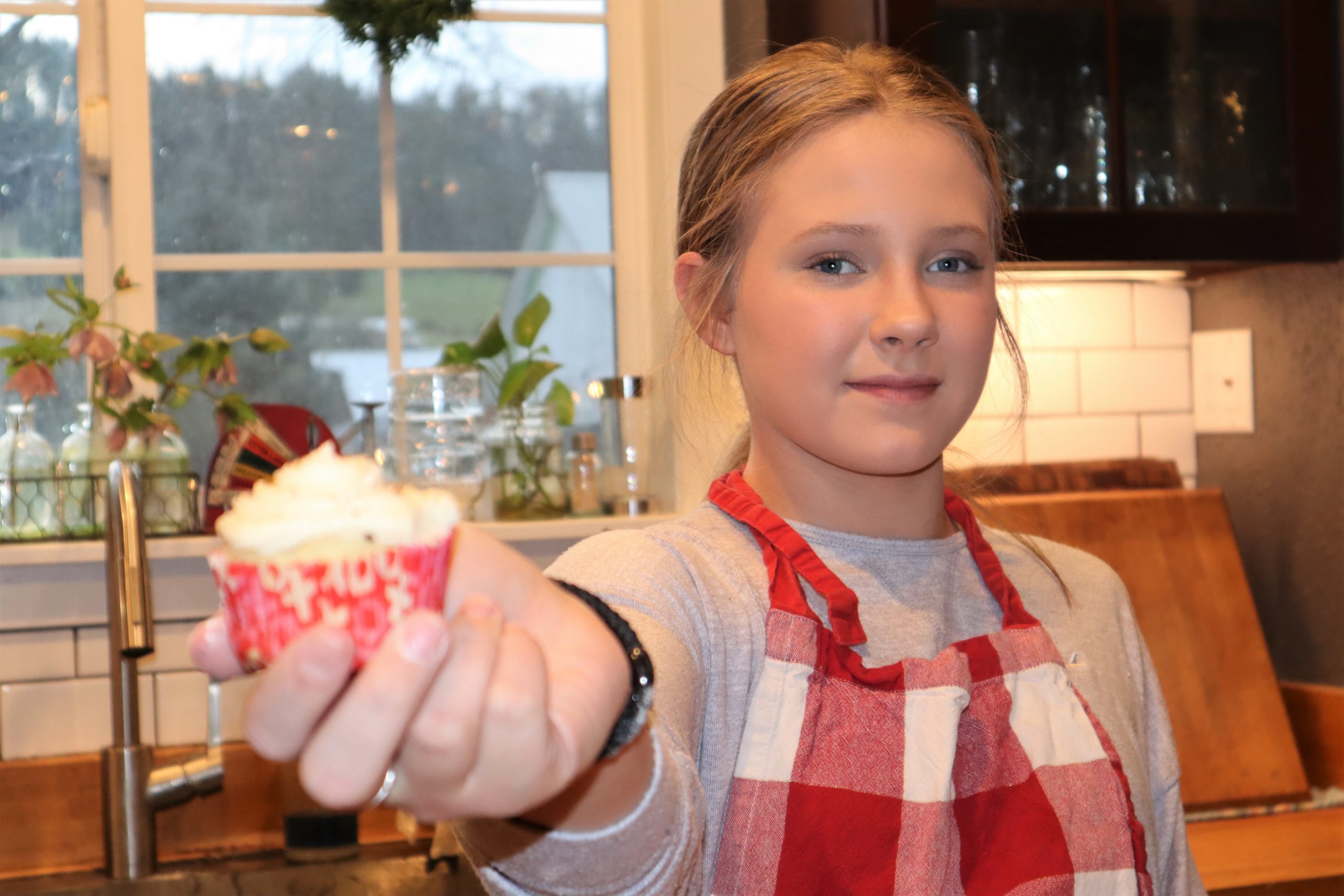 Bella Nielsen has been baking since she was 5 years old. Now, at 11, she has "Baked by Bella", a business where she sells homemade cupcakes.
She sells them at Porter Creek Mercantile.
Her mother and grandmother inspired her to bake.
"My grandma bakes a lot so I would watch her and she would let me help so I really took an interest in baking after that," Bella said.
Bella is hoping to add more to her menu of cupcakes soon.
"My signature cupcake is a vanilla cupcake with a chocolate hazelnut Swiss meringue filling with vanilla buttercream and hazelnuts sprinkled on top." She added, " For right now I am only doing cupcakes. But hopefully soon, I will be adding something called carmelitas, which is a chocolate and caramel bar, and a type of cookie."
Bella has many great memories of baking with her family.
"On Thanksgiving, my mom and I bake pies," she said. "When I was younger she would even let me do the rolling and mixing of the dough."
Her least favorite part of baking, it cleaning up after she's done.
"The best part of baking is once you are all done you can look at your cake or cupcakes or cookies or whatever you made and say, 'I think that was the best batch I have ever made,' or 'I need to do this differently next time,' and you can learn from your mistakes," Bella said.
She has sold many cupcakes over the last two weeks.
Bella said, "My first week I had orders for 92 cupcakes. The next week I set a limit of 50 pre-orders and ended up baking 70 cupcakes to sell."
She's using the money she earns to save up for college and buy things for her horse.
Bella considers baking one of her hobbies, but she has several other things she likes to do as well.
Bella said, "My favorite things to do outside of baking are riding my horse, playing with animals, spending time outside, and playing volleyball."
Rachel Nielsen, Bella's mother, said, "She surprises me with her self-motivation and how she fulfills the responsibilities that she takes on. She has always been independent and as she gets older she shows us how responsible and capable she is. I remind myself quite often that she has a handle on what she is doing. She knows we are here to guide her and help her if she needs it.
"She makes her dad and I proud because of her dedication to school and the projects that she starts. I am proud of her for starting this business and I hope she continues it as long as it makes her happy. I don't want her to feel like she needs to do this for anyone else but her. Right now baking is a large part of her life and we are happy to support any ambition and dreams she has."
Rachel Nielsen loves Bella's cupcakes.
"This recipe that Bella has come up with is one of my favorite cupcakes," she said. "She took 3 different recipes and combined them to make these cupcakes. The first time she baked them, I had one a day until they were gone. They are delicious!"
Bella has a simple objective, "My main goal with baking is to learn something new and have fun."
If you would like to purchase some of Bella's cupcakes, join the Facebook group "42 Connect Farm pick-up" and scroll until you see Baked by Bella. Comment on the post that you would like to buy some cupcakes. Or email to rachel.nielsen80@gmail.com with an order.
Bella having some fun in the kitchen on Wednesday.
"Baked by Bella" logo on a single cupcake box.
Bella working with dough in her kitchen on Wednesday