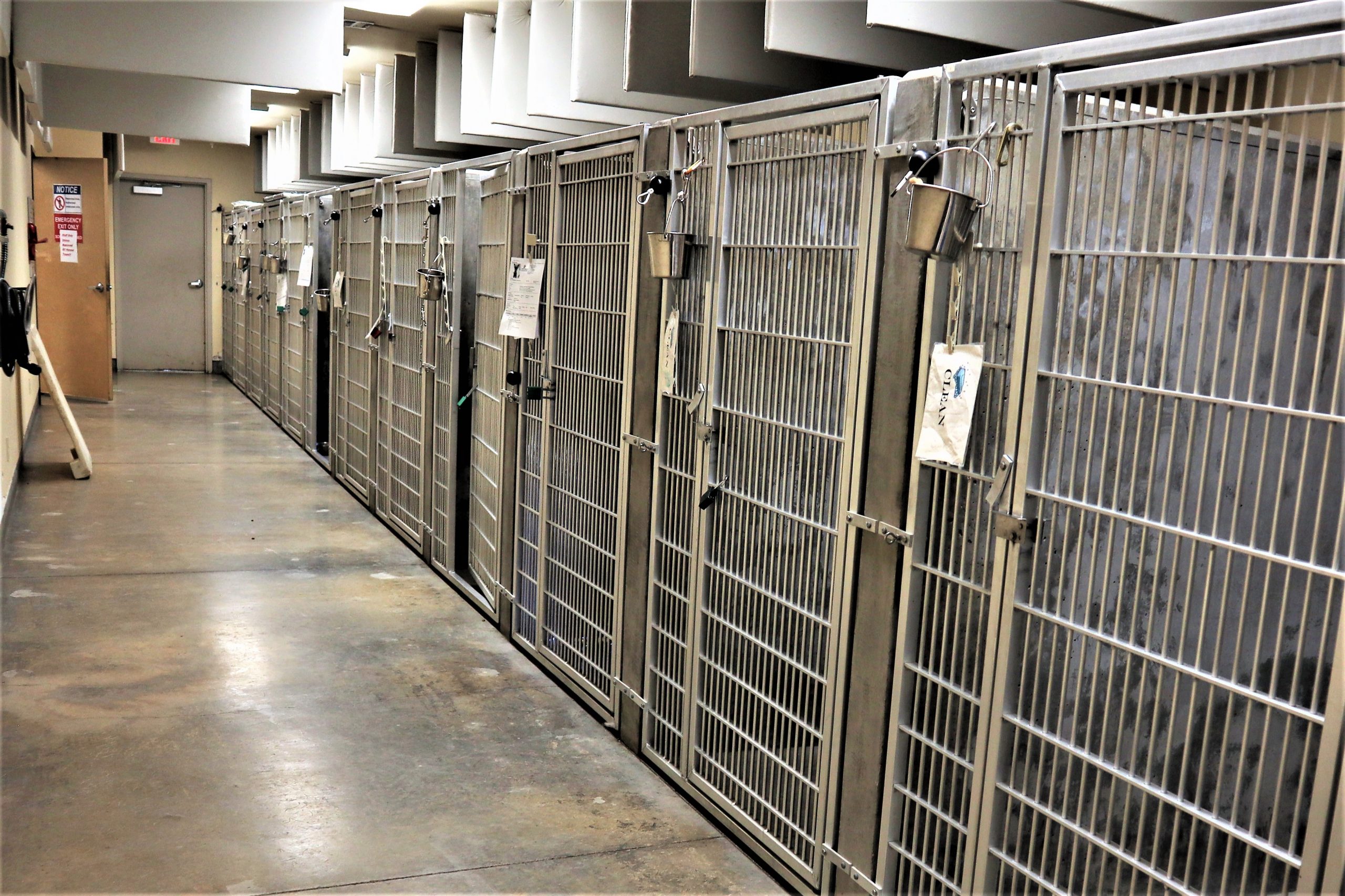 The kennels where stray dogs are kept, were empty on Wednesday due, in part, to the efforts of the Return to Home program.
When pets get lost, they are not always easy to find. 
Saving Grace Pet Adoption Center is working towards changing that. Return to Home is a program that strives to reunite families with their lost pets. Saving Grace has dedicated this month to promote this program.
Megan Gram, executive director for Saving Grace, said, "It is a community-based program which relies on all of us in Douglas County to know what to do when we have either lost our pet or have found a lost pet. Saving Grace provides resources for the community to assist in getting lost pets home or bringing them to the shelter if necessary."
She added, "Saving Grace works with pet owners and pet finders to help pets get home as quickly as possible, which is why it's so important to contact the shelter to report both lost and found pets."
The animal shelter is developing a more efficient way to locate your pets.
"Doing things like hanging posters in your neighborhood, knocking on doors, and sharing on social media can often times get a pet home much faster than taking them to Saving Grace," Gram said. "Most pets have not wandered far when they show up as a stray and are much more likely to make it back home if they stay in their own neighborhoods."
Around 30 stray dogs arrive at Saving Grace each month. Of those about 75% are returned to their homes.
"Stray cats who are brought to the shelter are spayed/neutered, vaccinated, and returned to the area where they were found as long as they are healthy," Gram said. "Cats are much more likely to find their way home on their own!"
When you report a lost pet, you have to give details.
"We create a lost report which details where the pet was found as well as it's physical description. We hold those reports for at least one year and are able to cross-check them with found reports as they come in. We then give them the information they need to help them have a better chance at finding their pet, including things like hanging posters, asking neighbors, etc.," Gram said. The option to do all this online will be made available in the near future.
If you have lost your pet, you may want to contact your local police department as well.
"Many local police stations also have dog kennels," Gram said. "Dogs may be held at those kennels for up to 10 days prior to being transferred to Saving Grace, so it's good to check with them first. Local police will also pick up stray dogs and bring them to Saving Grace if they have nowhere else to go. A quick call could avoid your dog being brought to the shelter instead of getting them home to you right away."
You should also call your vet. "Your vet and other local vets can keep an eye out in case anyone were to bring in an injured pet matching the description of your pet," Gram said.
Microchips are a very helpful way to be able to locate your pets. As long as the contact information is kept up to date, microchips are the best way to ensure that your pet will make it home if they become lost, according to Gram said. Microchips are permanent and simple to have done at your local vet. The cost varies but is usually between $50-$75.
"Saving Grace recently had a dog come in with a microchip who was found in Rice Hill but was from Grants Pass," Gram said. "We were able to get him home that same day because of his microchip."
Social media is also a good way to spread the word if you have lost a pet.
"Social media is huge! Use all the lost pet pages in your area. Contact regional shelters as well as your local shelter. Also Craigslist and even placing an ad in the local paper can help" said Gram.
There are some ways to prevent your pets from getting lost, such as keeping pets indoors whenever possible and making sure outdoor enclosures are secure.
"Spay or neuter your pets as they are much less likely to wander off after they have been neutered," Gram said. "Keep pets indoors or at home when you know that there will be loud noises or potentially scary situations for your dog or cat."
Saving Grace has not only worked hard for Return to Home, but they have also worked hard to protect pets in the community. "Saving Grace is Douglas County's only open-admission animal shelter. We provide care for over 3,000 animals each year and with a 94% live release rate, we are one of the safest animal shelters in the country. The pets in our care are provided with enrichment activities including a play yard for our dogs, a walking trail, a new group housing space for our cats, and lots of love from our staff and volunteers," Gram said.
If you are interested in helping with this, or any other Saving Grace programs, you may be able to volunteer. Gram said, " We are always in need of volunteers and donations to continue the work we do. Our team hopes to continue to expand programs that not only bring people and pets together, but keep them together. More information to come on this soon! In the meantime, check out our newly redesigned website at savinggracepetadoptioncenter.org!"
This lucky dog was reunited with his family Wednesday through the Return to Home program.                                            Photo Courtesy of Saving Grace