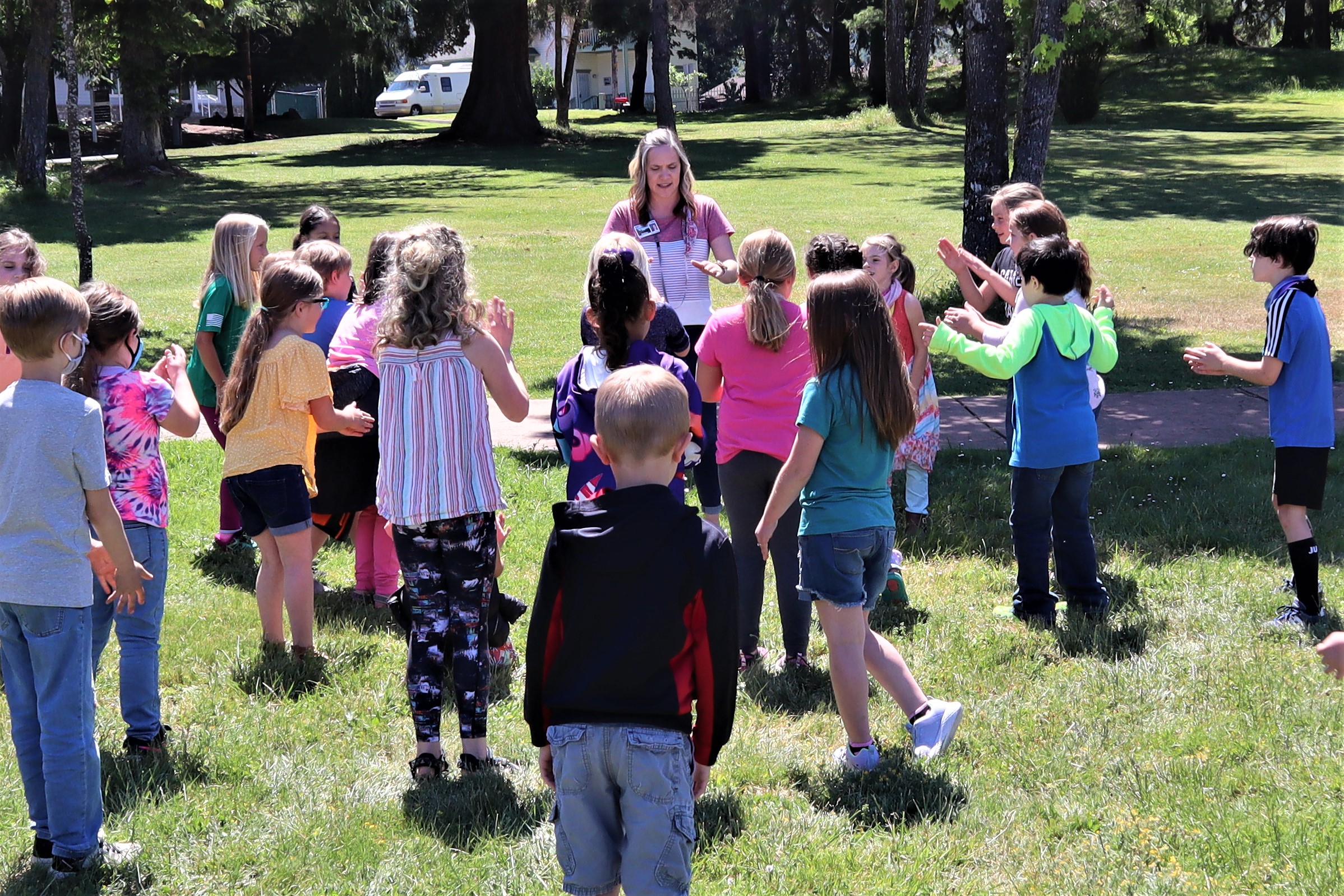 Andrea Stanley plays Sevens with second graders during recess on Wednesday.
Andrea Stanley, music teacher at Fullerton IV Elementary School in Roseburg, has inspired her entire school by doing an activity with her classes called Sevens.
"The Sevens Game is a body percussion challenge that I found over YouTube while we were doing comprehensive distance learning over Zoom," she said. "Since singing and dancing was difficult over the computer, and because Wi-Fi made some students have audio and video problems, I started playing Sevens at the end of my music classes."
There are a few rules to the game. There are four parts to the game, and each part is done twice. "We just use our body as a percussion instrument by patting our legs, clapping, and snapping in different patterns," Stanley said. "It is called Sevens because you pat or clap seven times during each section. We start slow and work our way faster. My goal was to see who could beat or tie me at certain tempos."
If you are interested in learning how to play, visit https://youtu.be/cHbPsyQBGFo.
"Rhythm and tempo are the main things it helps teach," Stanley said. "However, it allowed students to explore how to use Sevens in different ways. For example, a song would come on, and students would try to match the game to it. We also created new challenges, like doing it backwards or on one foot, which adds even more movement to the game. Students began inventing new ways to try and challenge me."
Second grader Jesse Filan said, "I like Sevens because it's easy and fun!"
Students that can successfully do Sevens get recognition.
"There are three different speeds that I will test students on," Stanley said. "The first is 'challenge speed,' where the student will get their name on my Wall of Legends for the year. Next, they can go 'supersonic,' which is pretty tough for most. Finally, they can go 'light speed' which is very fast."
She added, "Depending on what speed they are able to do, they will get a different star or lightning bolt on the wall and an award to take home. We also have been doing a school-wide challenge, where the top class gets to display a trophy. The students are really having a great time trying to win the trophy. I started the trophy a little over a month ago. Mr. South's third grade class had it for a while, then Mrs. Logerstedt's second grade class won it from them. Just recently Ms. Long's fifth grade class earned it. These classes keep trying to get more friends on the board so that their class can get the trophy."
Sevens is a huge hit at Fullerton.
"Honestly, I'm not sure how it got so popular," Stanley said. "It was just supposed to be a fun thing I did here and there with some students. My guess is that it grew because students were craving that one extra minute that they got to spend with a teacher. It gave them an excuse to interact in a new and competitive way. I think it also created a couple of smaller challenges for classroom teachers, especially if students were at their desks or inline practicing Sevens. We all just keep stressing when the appropriate time to play is. I also think that this drew some of the teachers into learning the game themselves. The most important thing is that it helped build is a sense of community at Fullerton IV. Every student and staff member knows about Sevens."
Stanley enjoys teaching. "My favorite thing about teaching is the kids. I know that it is cheesy to say, but it is the truth. I like to play and be silly, and teaching music gives me an excuse to find new ways to entertain students while also getting them excited about music and movement," she said.
Students doing Sevens are determined. Stanley said, "They are a determined group of kids. This year has shown me just how truly patient young students can be and how much they are willing to practice to achieve their goals. Having that drive cannot be forced, it has to come from within."
The wall covered with names of students who have mastered sevens.
Second graders participate in Sevens on Wednesday.
Stanley adds variation to the Sevens on Wednesday by having students line up to play.