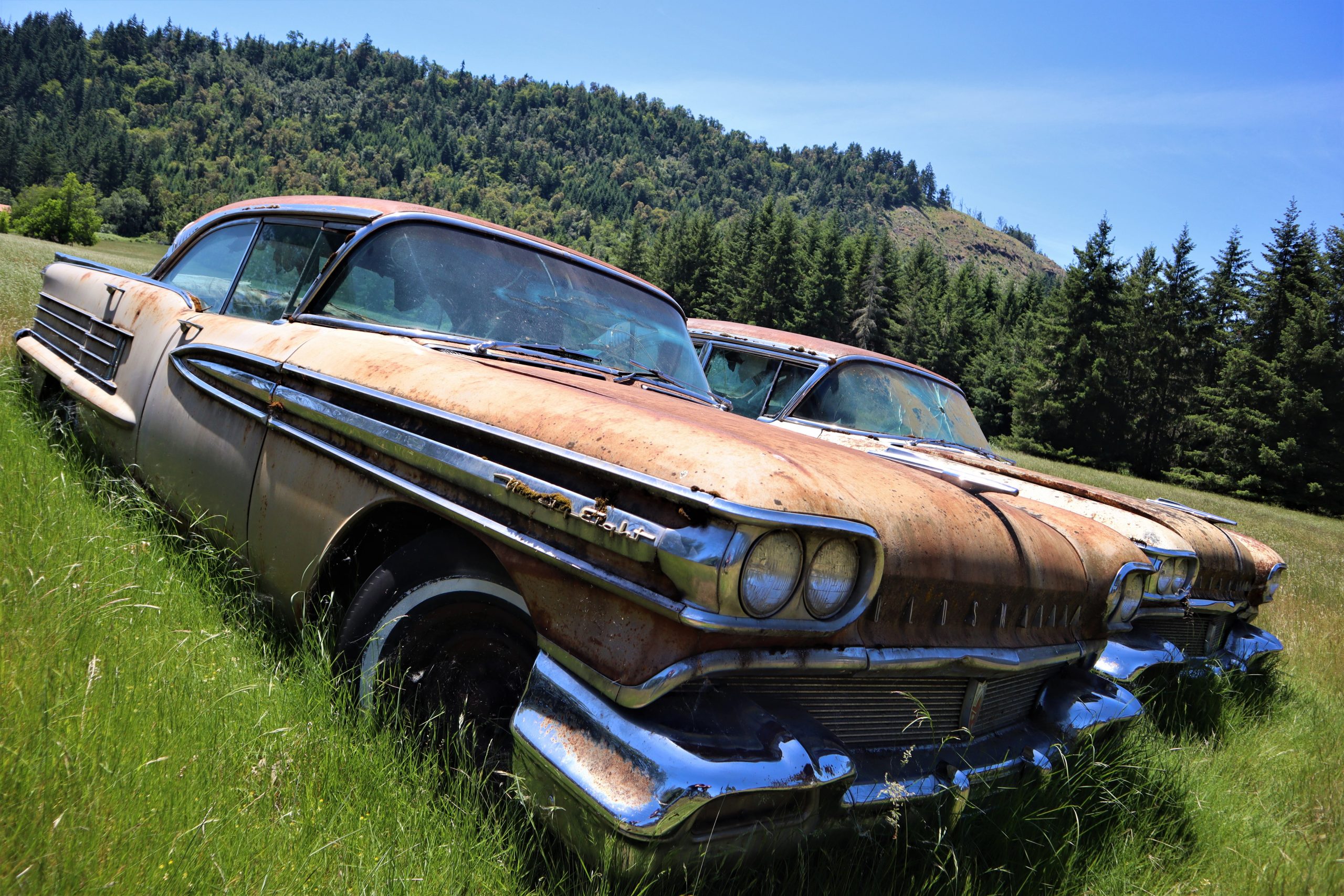 A headlight view of Dwyane Brown's Oldsmobiles on Sunday.
Chances are, if you have been about a half-mile west on Old Melrose Road from Melrose Road, you have seen a pair of Oldsmobile cars parked in a field. Dwayne Brown, 90, of Roseburg, is the owner of these imperfectly beautiful cars.
The two cars in the field have been parked there for more than 15 years. However, these are not the only cars he owns. He also has a 1950 Ford Custom Convertible and a wide variety of others. During the large snowstorm of 2019, his garage collapsed. He was relieved to see the storm had not harmed his Ford. He wanted to restore the Oldsmobiles, but time caught up to him, and he did not get around to it.
When Brown was not collecting cars, he was serving as the Fire Chief for the City of Roseburg. He worked for the City of Roseburg for around 25 years. When he was a teenager, his parents owned the Lookingglass Store.
People admire the cars and often stop by and ask him about them and their availability.
Brown said, "I want to sell them to someone who would keep them together. They could use parts from both to restore one of them."
Brown enjoys his collection. "I've been into antique cars my whole life," he said.
He likes the area he lives in as well. He says that it is quiet and the people around him are friendly.
If you also love old cars and would like to see them restored to their previous glory, be sure to check out Graffiti Weekend from July 7-11 in Roseburg.
A side view of the two Oldsmobiles parked in a field outside of Dwayne Brown's house in August 2020.
The pair of Oldsmobiles sit glistening in the sun on Sunday.
A 1950 Ford Custom Convertable Dwayne stores in his garage to keep it pristine on Sunday.