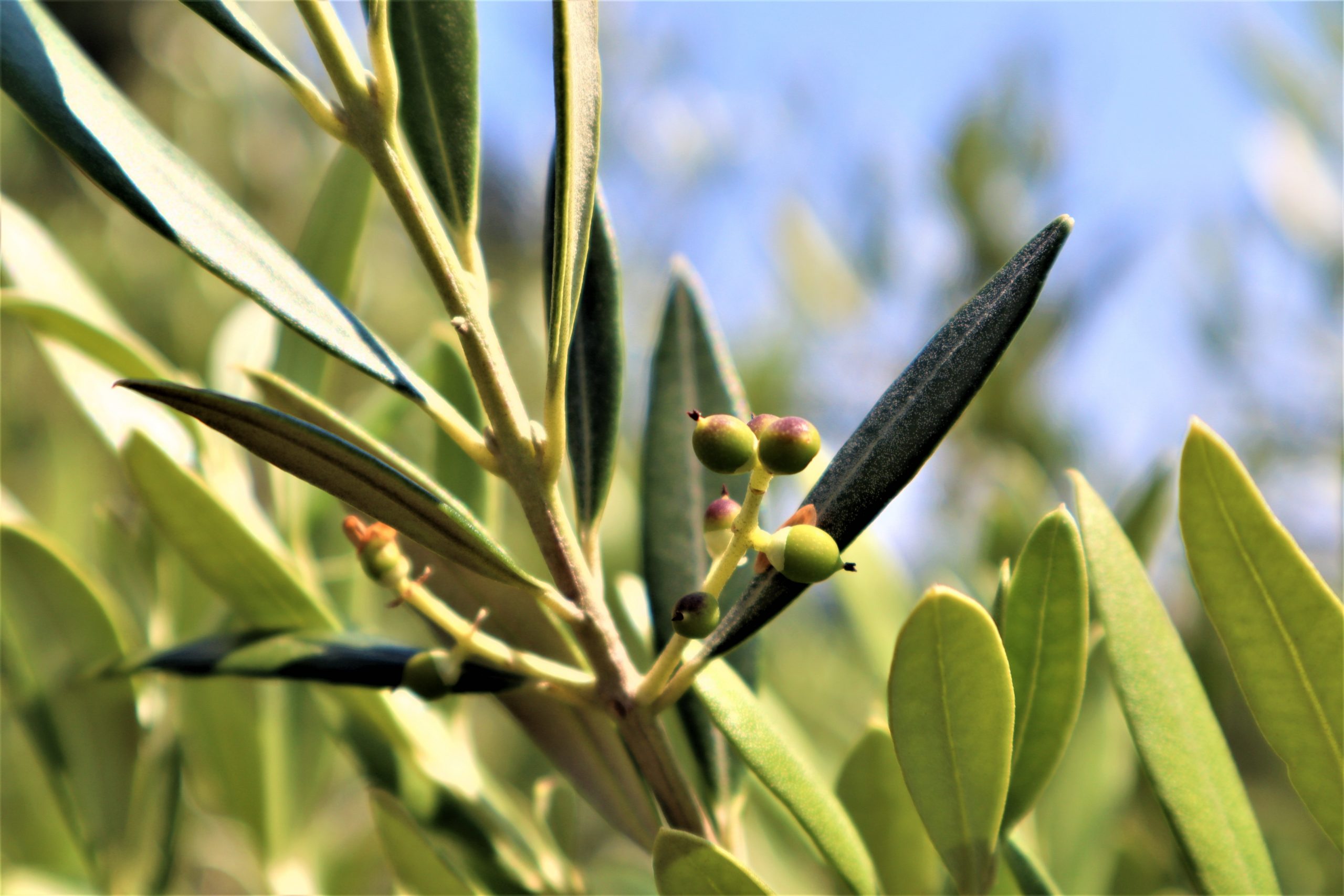 A small cluster of olives on a branch on Thursday.
Many people do not realize that olives are being grown right here in Douglas County. In 2010, the first olive tree for River Ranch Oregon Olive Oil was planted. Now, it is one of roughly 20 commercial olive orchards in Oregon. It is owned by James Otis and is located at 440 South Lone Rock Lane, Glide, OR 97443.
Oregon Olive Oil owns 230 acres of land. Elaine Smith, Project Manager at Oregon Olive Oil, said, "Currently 8 acres of olives with nearly 3,000 trees. An additional 3.5 acres are to be planted with 2,000 trees this fall." She adds, "River Ranch has not/does not use pesticides, herbicides, or other chemicals within/around the olive orchard."
Olives like a specific environment. Smith said, "Olives thrive in a Mediterranean climate. River Ranch is blessed with a slightly warmer microclimate, being kept warmer during the winter by the North Umpqua River, and is shielded by the surrounding hills."
"Blueberries and grapes were considered, but River Ranch doesn't have enough space for wine grapes and could not compete with large-scale blueberry farms in Douglas County. After visiting other Oregon olive orchards, and knowing River Ranch has a warmer microclimate than other regions in Oregon, the decision was made to plant olives." Smith added that the olives they grow are "Arbequina and Arbosana, both cold-tolerant Spanish varieties grown exclusively for the exquisite oil they produce."
Oregon Olive Oil has many products. Smith said, "Premium extra-virgin olive oils pressed exclusively from olives grown on the ranch, along with Flavor Infused Extra Virgin Olive Oils, Olive Oil Sugar Scrubs, Olive Wood Chips for barbecuing, gift bags, gift tins, etc."
You may wonder how Oregon Olive Oil stacks up against the Italian or Spanish varieties. Smith said, "Italy and Spain produce wonderful olive oils, but cannot compare in freshness with Oregon-grown estate oils."
River Ranch Oregon Olive Oil's website states, "At the end of the day, quality extra virgin olive oil is incredibly healthy. Due to its powerful antioxidants, it benefits your heart, brain, joints, and more. In fact, it may be the healthiest fat on the planet."
If you are interested in visiting, they are open to the public."Complimentary "Tour & Taste" can be arranged between 8 AM – 4 PM on Mondays, Thursdays, and Fridays by calling the ranch office at 541-496-9700. We are closed to the public during October for harvest," said Smith.
Their products can also be found at local farmers' markets.
Smith says that her favorite part of working at River Ranch is "Introducing people to our exquisite oils and watching their reaction to what a fine olive oil tastes like."
A row of olive trees at River Ranch Oregon Olive Oil on Thursday.
One of the many branches covered in olives at River Ranch Oregon Olive Oil on Thursday.
The view from the road of the large orchard of olive trees on Thursday.