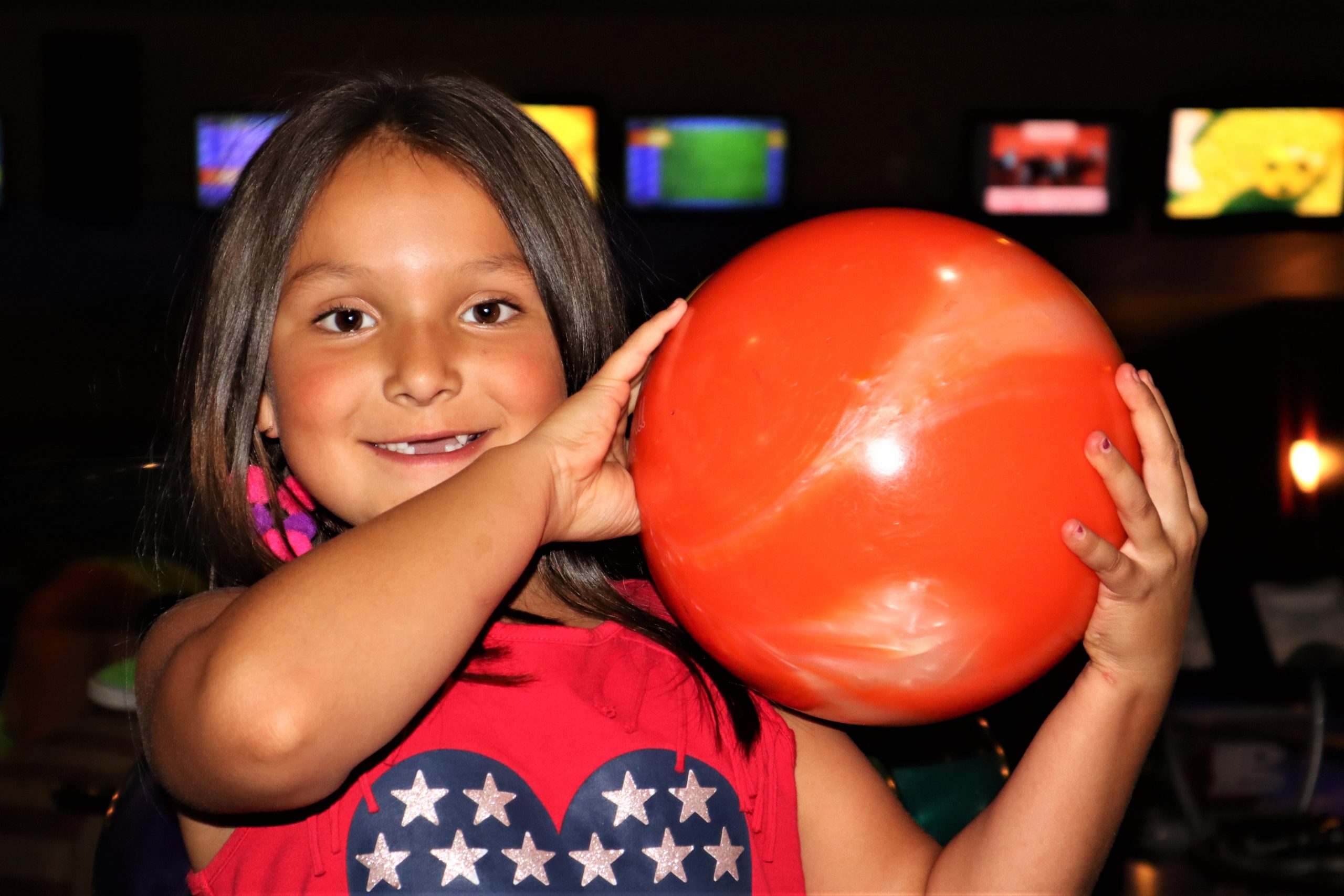 Callie Batchelor, 6, holds up her ball and is ready to bowl on Wednesday.
Ten Down Bowling, located at 2400 NE Diamond Lake Blvd, opened in 2007. For the last nine years of business, they have participated in a program called Kids Bowl Free. This program allows children in the community to bowl for free.
Bryon Smith, Co-Owner of Ten Down Bowling & Entertainment and Splitz Family Grill, added, "When lanes are available, we offer the Kids Bowl Free during all regular business hours – Wednesday & Thursday 4 pm -10 pm; Friday, Saturday & Sunday 12 pm – 10 pm."
Ten Down Bowling likes the Kids Bowl Free program. Smith said, "We believe the program is great for our community; it gives kids and their families a fun activity to do together during the summer."
Colby Batchelor, 13, participated in Kids Bowl Free on Wednesday. He said, " I like to have fun with my family." Colby's mother, Amanda Batchelor said, "It gives us a place to take our kids and get them off of their phones and video games."
Not all costs are covered by the program. "Coupons are issued daily, they give each kid 14 years and under 2 free games. Shoe rental is not included. Ten Down also has a summer Shoe Rental Pass you can purchase. You may also purchase a family pass on the Kids Bowl Free website for the older kiddos and adults of the family," said Smith.
Signing up for Kids Bowl Free is simple and about 300 kids participate every week. "Go to the Kids Bowl Free website at kidsbowlfree.com and search for Roseburg, Oregon to find TenDown Bowling. Fill in all the appropriate information and you will start receiving emails with information on how to get your bowling coupons."
Kids Bowl Free is not the only youth program Ten Down has. "We have a junior bowling program/league that bowls on Saturday mornings starting in September and runs through April," said Smith.
Ten Down is excited to be a part of Kids Bowl Free. Smith said, "We are proud to be part of and offer the Kids Bowl Free summer bowling program. The Kids Bowl Free program also awards grants to teachers and schools – which we nominate all area schools for every year. Fremont Middle School has been awarded one of those grants! It's a great program! We are happy to be fully reopened and having a great time with guests bowling and playing in the arcade!"
Callie Batchelor, 6 rolls her ball down the lane on Wednesday.
In addition to bowling, Ten Down offers an arcade as well.
There are many different prizes you can win at Ten Down.
Callie Batchelor, 6 just about to throw her ball down the lane.
Some of the many bowling balls you can choose from at Ten Down.
Rachel McKim, 5, enthusiastically pushes her ball down the lane.