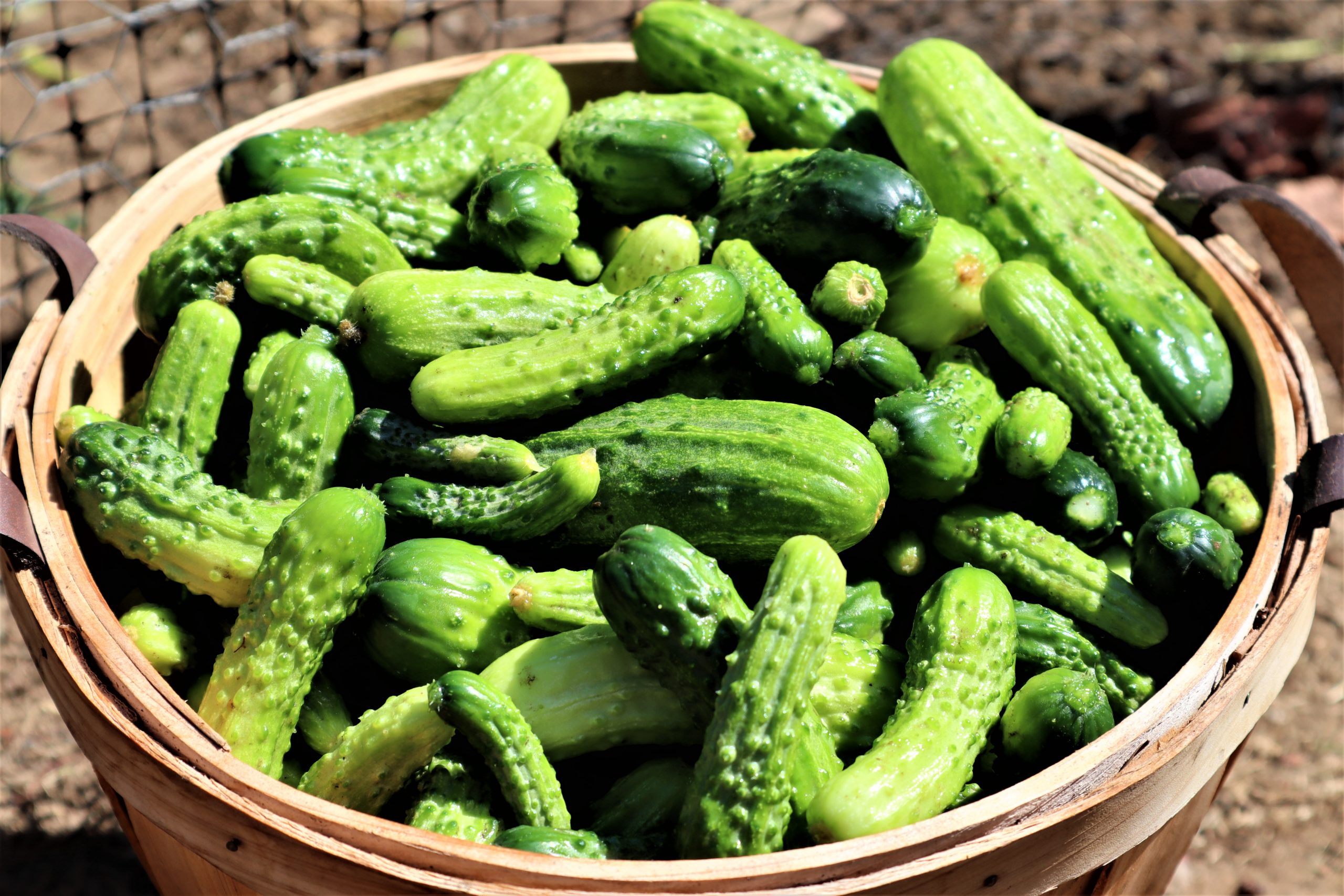 A basket full of cucumbers from Norm Lehne Garden and Orchards ready to be pickled on Friday!
It's pickle season! If you are looking for something to do this summer, you may want to try making your own pickles. Norm Lehne Garden & Orchards has plenty of pickling cucumbers. Glen Lehne, director of farm operations at Lehne Farms said they have "The classic finger sizes up to those that are about the diameter of the cardboard insert of paper towels–those that are great for bread and butter pickles or 'coins'.
There are many opportunities to purchase pickling cucumbers from Lehne Farms. Glen said, "We have plenty available to pick on our farm or at our weekly farmers market–Glide on Tuesdays 10-1; Coos bay on Wednesdays 10-2; Bandon on Fridays 10-4; and Roseburg on Saturdays 9-1."
You can also pick your own pickling cucumbers at the Lehne Farm. "We have a u-pick at our farm at 386 Cleveland Rapids Rd, Roseburg; Mondays, Wednesdays, and Fridays and Saturdays 8-12. We plant several successive patches that ensure we always have vigorous plants giving a plenty of cucumbers for folks to find very easily, especially if they walk into the patch. So many times people rummage through the same plants where if they walked down the rows a few more feet it is a gold mine," said Glen.
Glen said, "We grow the classic Boston/New England types that are Gynoecious (This means the plants only have female flowers (gynoecious), which do not require pollination; therefore, the cucumbers are seedless) and have a good length to diameter ratio (this means they have good length but stay small in diameter."
Lehne Farms also has many other healthy options "In addition to plenty of cucumbers for pickling we also have lots of Candystore corn, blue lake beans, beets, Beefsteak tomatoes, hot and sweet peppers, eggplant, zucchini, Gravenstein apples, nectarines, and peaches ready for u-pick, with pears still to ripen in September," Glen said.
There are many different options for pickle recipes. Glen offered his Grandma Helen's best pickle recipe:
Grandma Helen's Pickles
Pack jars with 1-2 heads of fresh dill weed
3-5 cloves of garlic crushed peeling not necessary
1-2 grape leaves to provide a greater crunch
As many cucumbers to fill the jar–cut a few chips/wedges to fill all voids
Fill jars with brine that has been brought to a boil
1 cup apple cider vinegar
3 cups water
1 cup pickling salt
Twist rings and lids on jars and follow the recommended processing procedures found in the Ball canning book.
If you have some time, you might want to try this recipe and make yourself some homemade pickles! Enjoy.
Fresh dill is one of the things you may need to make your own pickles.
A yellow flower that grows on the end of cucumbers at Lehne Farms on Friday.
Cucumbers being made into pickles in a jar.
One of the many signs you see when you enter Norm Lehne Garden and Orchards.
Ashlynn Lehne, (left), and Elaine Snow work hard at Norm Lehne Garden and Orchards on Friday.
A large pile of pickling cucumbers waiting to be pickled on Friday.
There are many rows of cucumbers at Norm Lehne Garden and Orchards.