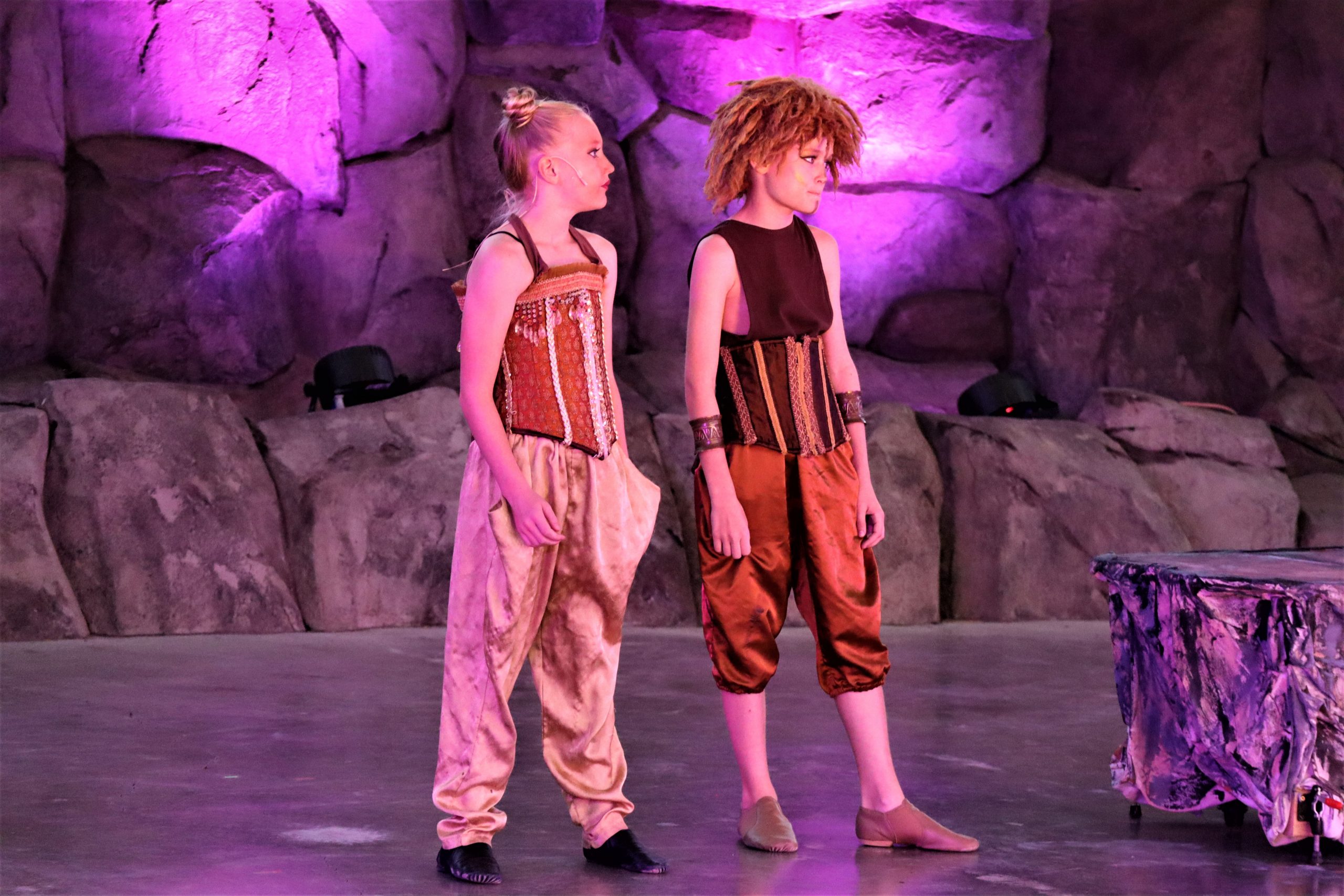 Olivia Taute (Left) as Nala and Evan Lewandowski as Simba stand conversating in character on Tuesday.
The Umpqua Actors Community Theatre is putting on The Lion King Jr at Wildlife Safari. The opening night is tonight! Melody Schwegel, Executive Director for UACT, said, "The Lion King Jr is a UACT production with our Youth Summer Theatre Program. This program was made possible through funding by the Oregon Community Foundation's K-12 Summer Learning Program." Schwegel said that the shows will run "August 18-22 at 7:30 PM with a matinee on Saturday, August 21 at 1 PM in the outdoor dome at the Wildlife Safari."
There are a wide variety of performers in the production. Schwegel said, "The cast has a wide range of performers from all over Douglas County and range in age from 6-18. We had 70 kids from all over Douglas County audition, and we cast 32."
Schwegel is excited about the production! "This is UACT's first Jr. show, so I'm excited to get to focus a UACT production on the youth of Douglas County and to be able to showcase The Lion King Jr. at The Wildlife Safari, which is the perfect environment for this show. It gives the performers a fully immersive experience like no other production has experienced," she said.
The pandemic is a challenge in many ways. "Performing any theatre during a pandemic is a challenge. We want to keep the kids as safe as possible but still give them the same rounded training and understanding of theatre and its techniques in production during a normal theatre season," said Schwegel.
Schwegel has lots of experience. She said, "I've directed over 30 productions in Roseburg. These productions span from one person shows to full-blown musicals that have 40 performers involved."
The Lion King Jr is an interesting production. Schwegel said, "Featuring classic songs from the film such as 'Circle of Life,' 'I Just Can't Wait to Be King,' 'Hakuna Matata,' and 'Can You Feel the Love Tonight,' The Lion King is a story about identity, family, and responsibility that is enjoyed worldwide by people of all ages."
There will be many more opportunities to watch UACT productions. "We have several shows coming up at UACT including, Broadway Villains, Elf The Musical, Mamma Mia, Puffs, and The Ghosts of Covington Manor," said Schwegel.
Schwegel enjoys what she does. She said, "Support local theatre, encourage kids to be creative, and be an advocate for the performing arts."
If you are interested in watching UACT productions, you can purchase tickets at uact-theatre.com.
PJ Bartz, Olivia Taute, Emma Opp, Anna Irwin, Addison Reneau, and Emmaline Williams (Right-Left) dance and sing as lionesses on the hunt on Tuesday.
Olivia Taute (Left) as Nala and Evan Lewandowski as Simba perform while throwing their hands in the air triumphantly on Tuesday.
Samantha Wengert as Rafiki holds up young Simba on Tuesday.
Bella Chitwood walks in her large Giraffe costume on Tuesday.
Samantha Wengert as Rafiki sings Circle of Life on Tuesday.
Victor Crowley as Mufasa, (Left), and Even Lewandowski as Simba, sit on one of the stage decorations on Tuesday.