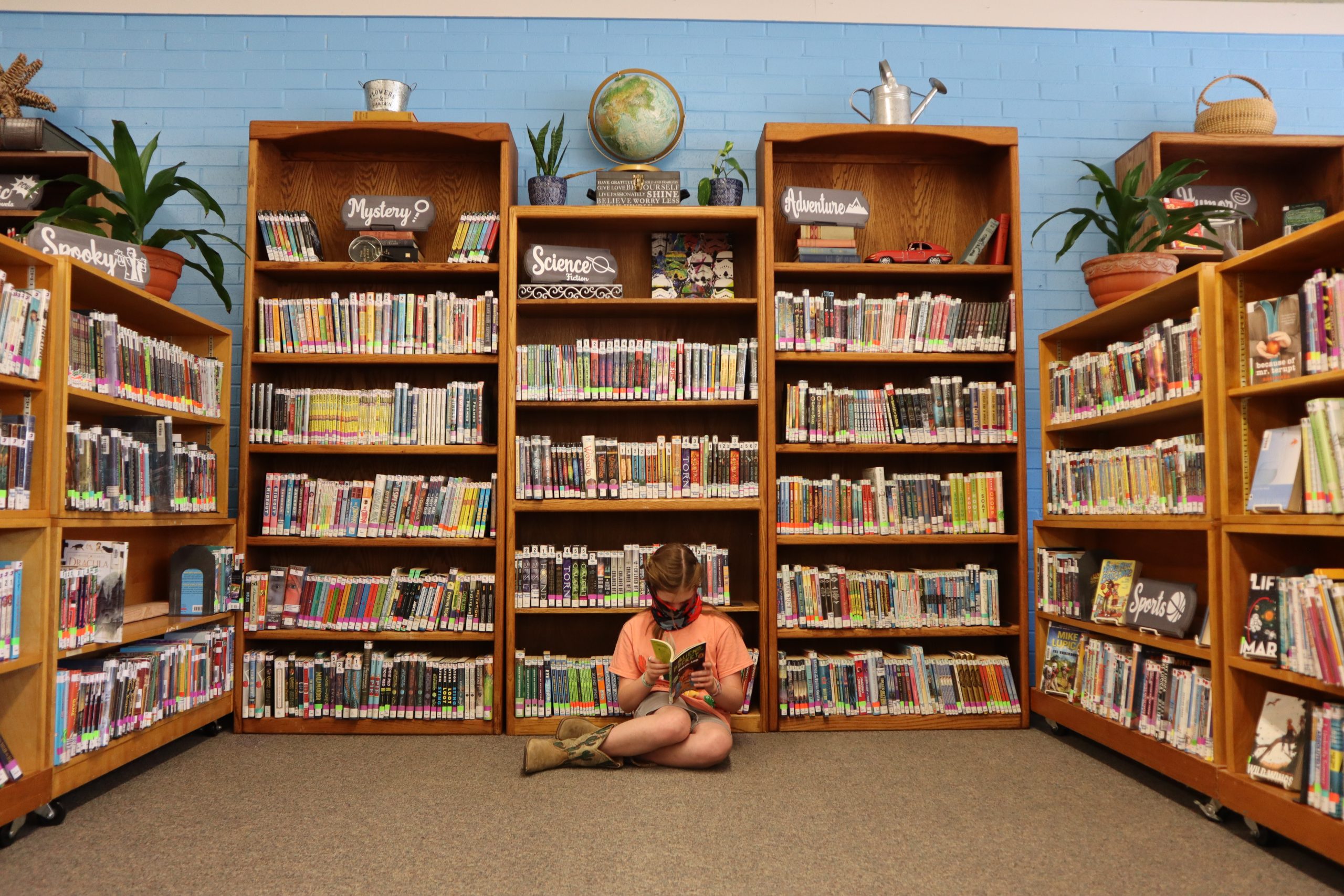 Grace Huselton, 4th grader, reads a book in front of the Fiction book display.
Fullerton IV Elementary recently hired a new librarian, Holly Knox. She wants to make the library a place where students want to be. Knox said, "I wanted to update the library into a more inviting place so that students that already love the library can enjoy it, but also to spark enthusiasm about reading and the library in those kids that aren't as interested. I'm always seeking ways to get kids to read!"
Knox has taken many steps to renovate the library. "The first thing I did was give the whole room some fresh, bright paint. Then I added a couch, a bunch of plants, and some interesting decorations and furniture. I also introduced some classrooms pets—Loki and Thor. They are axolotls, and so far the kids are really fascinated by them," said Knox.
Lots has changed in the library. Knox said, "I was really lucky that our last librarian, Heather Bolin, left us with a really good collection of books. This allowed me to focus on renovating the appearance of the library. Formally, the library had an area that was used as a computer lab. Now, the computers are stored in the classrooms, so that freed up some space."
Renewing the library took some work. "Luckily, I had a lot of help from my family and our amazing custodial staff," said Knox.
Knox is happy to have gotten support. She said, "I really appreciate the support I've gotten from Debbie Price, our new principal. She shares my passion for the library and has been a great help during the library renovation."
Knox enjoys the job. "Being a librarian is the perfect marriage of my love of books and my love of kids-I'm super happy to have the opportunity to do this job." Knox added, "I think reading is so important for kids, and being a librarian allows me to help kids find really great books."
Not only did Knox change the library's appearance, but she also changed how it is organized. Now, it's easier for kids to find books that interest them. "One of the other things I've done to make the library more inviting for kids is to generify the fiction. So now, instead of being arranged by the author, the fiction books are arranged by subject like science fiction, graphic novels, or fantasy. The reason for doing this is that it allows kids to easily search out books on their own."
Knox feels that libraries are a valuable resource for students. "Kids should always check out their school and local libraries! We are here for them. Students can come in and tell me about a movie or video game they like and I will do my best to find them a book that they will enjoy. It's free and it's easy," Knox said.
The community was a big help. "The renovation would not have been possible without help from our community partners who donated either funds or supplies to the project. I'd like to thank the following businesses on behalf of the Fullerton student body for their support: Systech Consulting Inc., Roseburg Disposal, Quality Inn Central, Umpqua Sand and Gravel, Roseburg Forest Products, Kids and Co. Counseling, Gordon Wood Insurance, Umpqua Dairy, Cascade Community Credit Union, First Community Credit Union, H.I.S. Automotive, LeMert Orthodontics, Century 21 The Neil Co., Simmons Law, Megabyte, and G. Stiles Realty," said Knox. "We are really lucky to live in such a generous community."
Knox wants all kids to read. "Books can teach us, they can entertain us, and they can transport us. There are very few things in life better than a great story. Libraries are full of them!" said Knox.
Faith Harris, 5th grader, (left), and Grace Huseltonc, 4th grader, read books in front of the Non-Fiction section.
The axolotls swim in their tank as a large canvas hangs above.
Faith Harris, 5th grader, reads a book in the designated relaxation area.
The sign and decorations located in the mystery section of the library.
Faith Harris, 5th grader, (left), and Grace Huselton, 4th grader, draw on the new whiteboard tables.