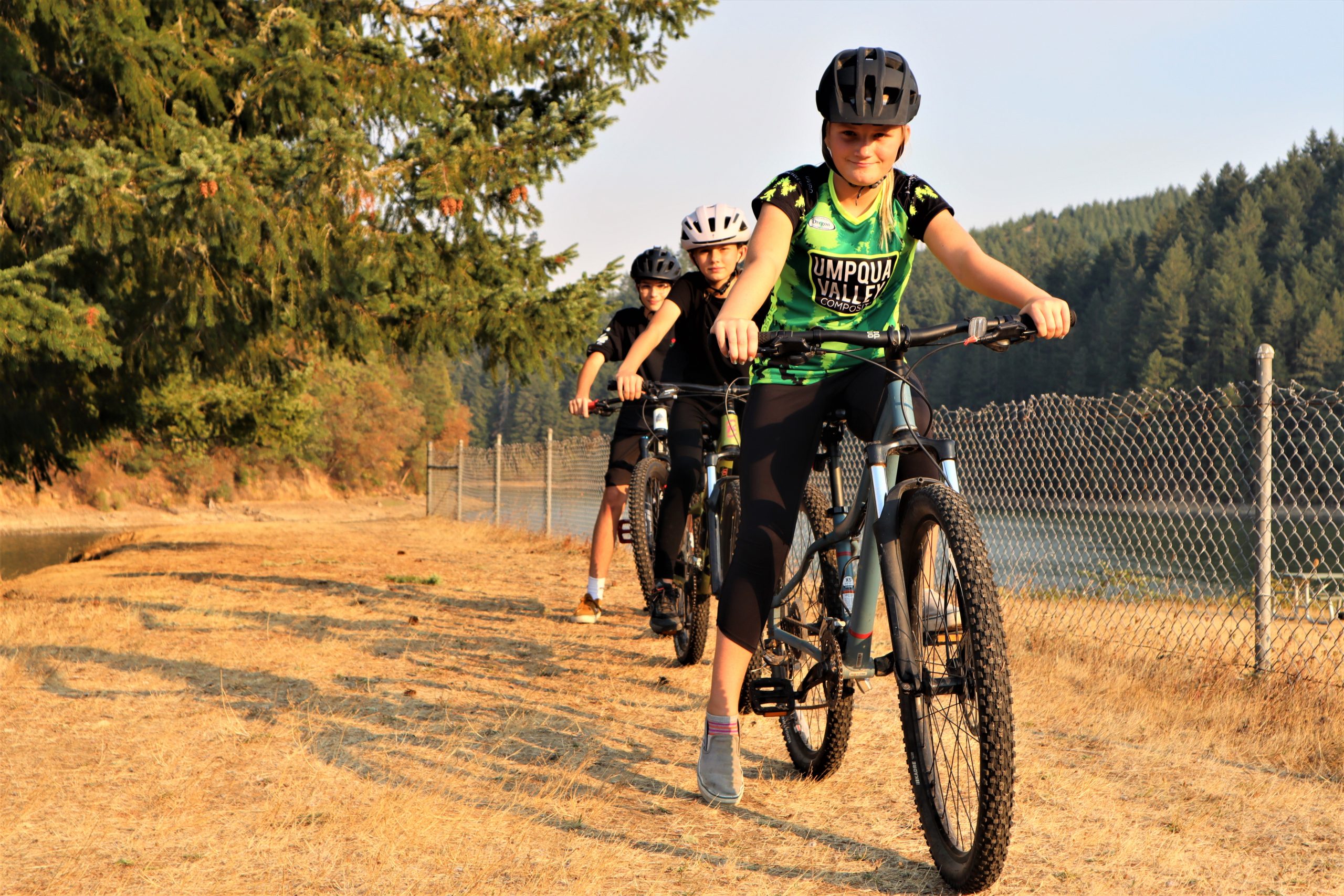 Quinn Coopride, 11, front, Parlor Adevai, 11, middle, and Bridge Adevai 15, back at practice on Thursday, September 2nd.
Umpqua Valley Composite Youth Mountain Bike Team is made up of grades 6-12, from Roseburg and surrounding areas. According to their Facebook page, "As members of the NICA Oregon League, our vision is to empower the lives of Oregon's youth and communities through the sport of mountain biking."
The team had their first competition of the year in Newport, Oregon on Sunday, August 29th. This was the first of four races for the Oregon NICA league. The team competed against riders Eugene, Ashland, Bend, and Bandon.
Umpqua Valley Composite Riders had the following results:
Parlor Adevai took 1st and Quinn Coopride placed 2nd in the 6th-grade girls' division
Audrey Kruse placed 8th in the 7th-grade girls' division
Owen Kruse finished 16th in the 8th-grade boys' group.
Easton Cantrell placed 22nd in the freshmen boys' field.
Oliver Edwards finished 13th, Bridge Adevai finished 14th, and Liam Osborn finished 19th in the sophomore boys' division.
Kaleb Oliver finished 2nd and Hayden Osborn finished 13th in the JV boys field.
Parlor Adevai, 6th grader, likes many things about being on the team. Adevai said, "I love the challenge, the exercise, and being outdoors especially on downhill slopes and long rides." She added, "My main goal is to master my jumps and to get better at switching gears."
Quinn Coopride also enjoys the team. "The trails are fun and it gets me in shape quicker because of all the up and downhills. The team teaches you all the techniques to be a better rider," Coopride said. "The first lap was fun but the second lap was very tiring especially the uphills. The older kids were much faster and surprisingly not very many people crashed."
The team is open to all middle school and high school youth interested in both competitive and non-competitive mountain biking. If you're interested in finding out more you can find their page on Facebook.
Parlor Adevai, 11, who placed 1st in her first competition, leans on her bike on Thursday, September 2nd.