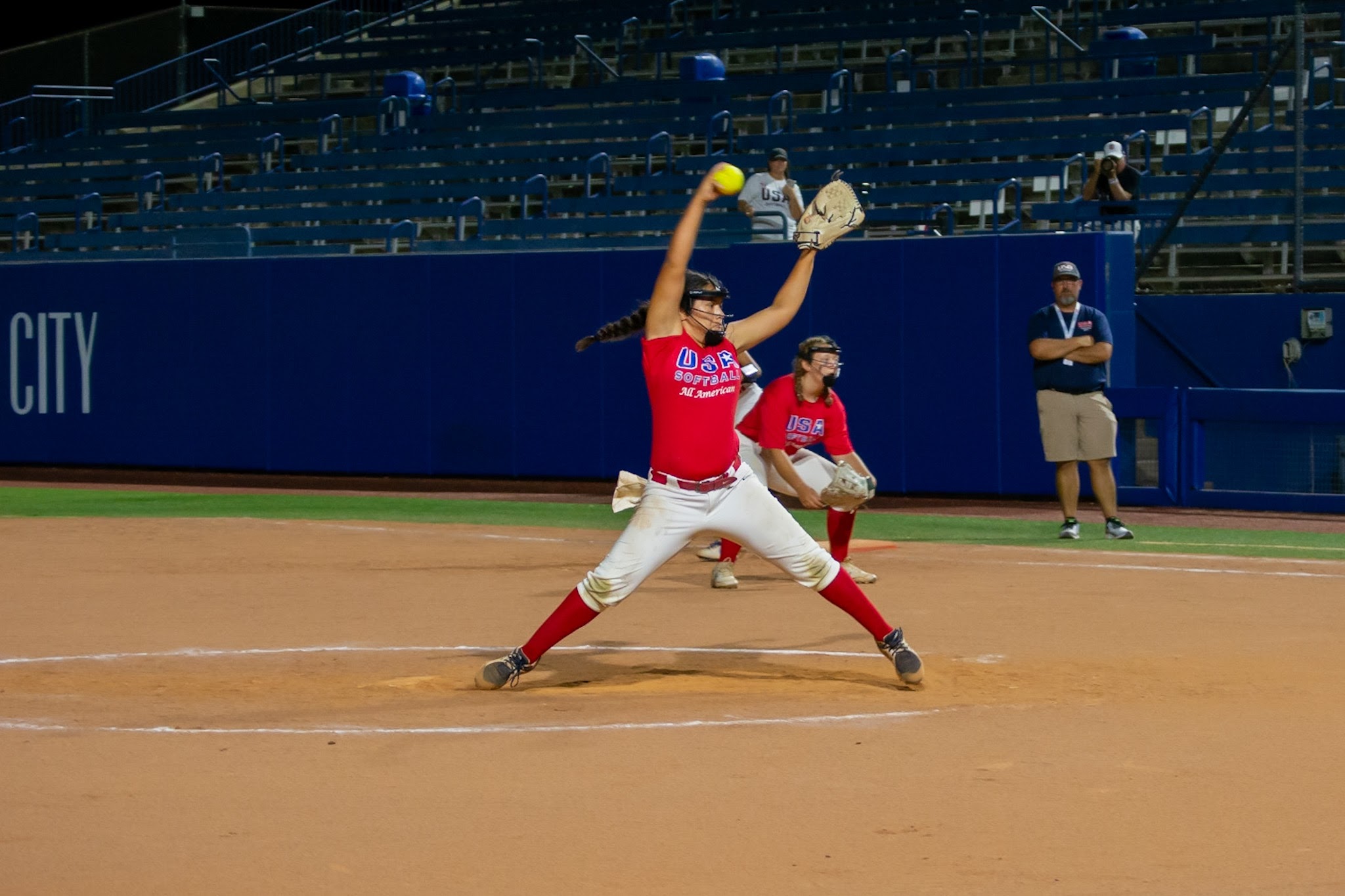 Morales pitches during the USA Softball All American Games in Oklahoma City at the Hall of Fame Stadium in August 2021.
Jasmine Morales, 8th grader at Fremont Middle school, started playing softball when she was in just 3rd grade. Ever since she has practiced her hardest to be the best softball player she can be. She now plays on the North West Vandals out of Salem. She has a deep connection to playing softball. "Softball is not just about a sport. I have made a lot of memories and a lot of friends that I wouldn't have met. Softball has given me and will give me a bunch of opportunities in my life and it motivates me to be a better me," Morales said.
Softball can be both mentally challenging and mentally relieving. "It gives me an outlet which I think is important for everyone to have. It helps me learn to be disciplined and stay motivated even when things get tough." She adds, "It takes a lot of mental toughness, especially to be a pitcher. Softball and Baseball are the sport of failure. You fail more times than you'll succeed," Morales said.
Morales has made many good memories while playing softball. She said, "One of my first memories was winning the first tournament of the season with the Indians team. I remember very clearly because the season before that we only won like 3 games! She added, "My most recent absolute top favorite is making the USA Softball All American team and traveling to Oklahoma City to represent the Pacific Northwest Region 9 and playing in the Hall of Fame stadium under the lights."
The Fall season was enjoyable for Morales. "I just got done with the Fall season. Fall season means new teams form and we use that season to play together and try to learn from each other on the field. I would say the season was fun. We ended on a good note. We really started playing together as a team and I'm excited for the spring season." She added, "Between both seasons we landed in 6 championship games. We got 1st place 4 times and 2nd place two times," said Morales.
Morales is going to work hard to continue to improve her game. She said, "I've been doing CrossFit with Dave at Roseburg CrossFit. My plan is to continue to work with him to up my game in strength and conditioning. I take about a month to a month and a half off of softball to rest my muscles and brain then back to training. I continue with my personal hitting and pitching coach, practice on my own, and travel to be with my team. But the biggest thing that I'll be working on is training my mind for the mental aspect which will be needed with tougher competition."
Morales collects herself and her thoughts while the next batter gets in the batter's box in June 2021.
Morales bats against Nor Cal Rage in the USA Nationals and hits a double on a line drive to right field to score a run in July 2021.
Morales plays first base at USA Nationals during Bracket play against our older NW Vandals team in July 2021.