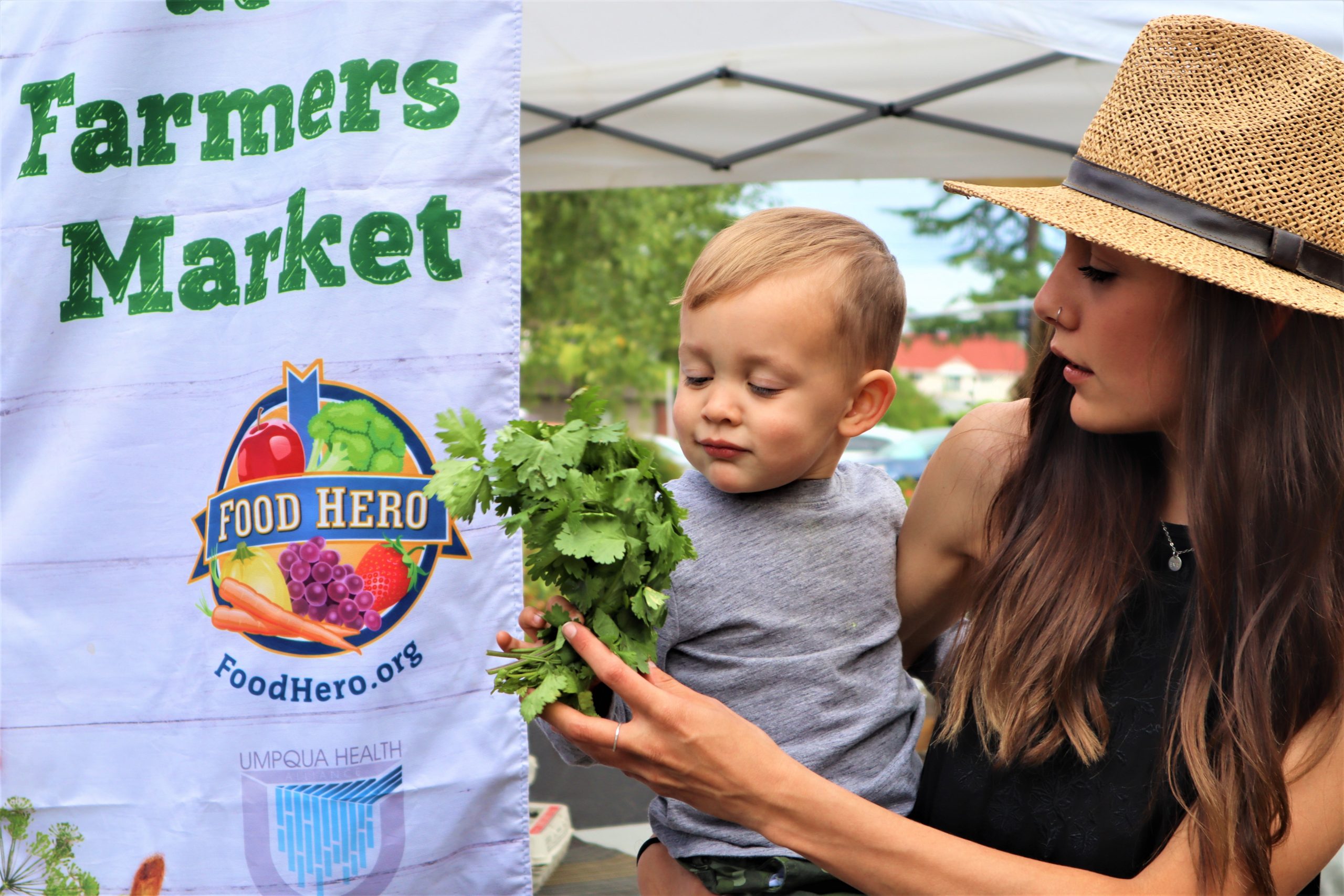 Food Hero was at Umpqua Valley Farmers Market last Saturday handing out bags full of goodies, which included fresh herbs, recipes, spice blend samples, and craft activities for kids. They also gave children $2.00 in vouchers to purchase local produce at the market.
If you have children, you can stop by the Farmer's Market information booth every Saturday and check out the Food Hero program. This summer the "Featured Farmer Food Hero at the Farmers Market" program will run until August 22nd.  They  plan to feature a different farmer every week with a fruit or vegetable that they grow.  Each week they send information home in the kits to tell a little bit about the farmer and food hero recipes that can be used to try the featured fruit or vegetable from that farm. Kids can have fun while learning about farmers and how to be more healthy.
This program is a partnership with UCAN, AmeriCorps, UVFM and Oregon State University Douglas County Extension Service. This is the fourth year of the Food Hero at the Farmers Market.
In addition, the Oregon State University Douglas County Extension service is providing a free "camp," in the form of kit pickups through their Farm to School Program called Farm, Food, and Fun Camp. Kit pickups will take place at three locations every Thursday from July 9 to August 13.
The kits will include:
o Weekly farm and garden based activities for youth in grades 3rd through 5th
o Food Hero recipes and newsletters
o Seed and plant growing activities
o Produce to make your own meal
To Register: Go online to https://bit.ly/FoodFarmFun
If you can't make it to the Farmer's Market or the camp, you can still check them out at FoodHero.org. With the Food Hero website, you can budget, plan, and create many nutritious and delicious meals. They have hundreds of kid-friendly recipes that will make the whole family happy and healthy.
According to Mandy Hatfield, "The goal of Food Hero is to be your go-to site for easy, healthy recipes, shopping tips, advice on growing your own garden and more." She added, "No matter how often you visit, you'll find something new for your family to enjoy."