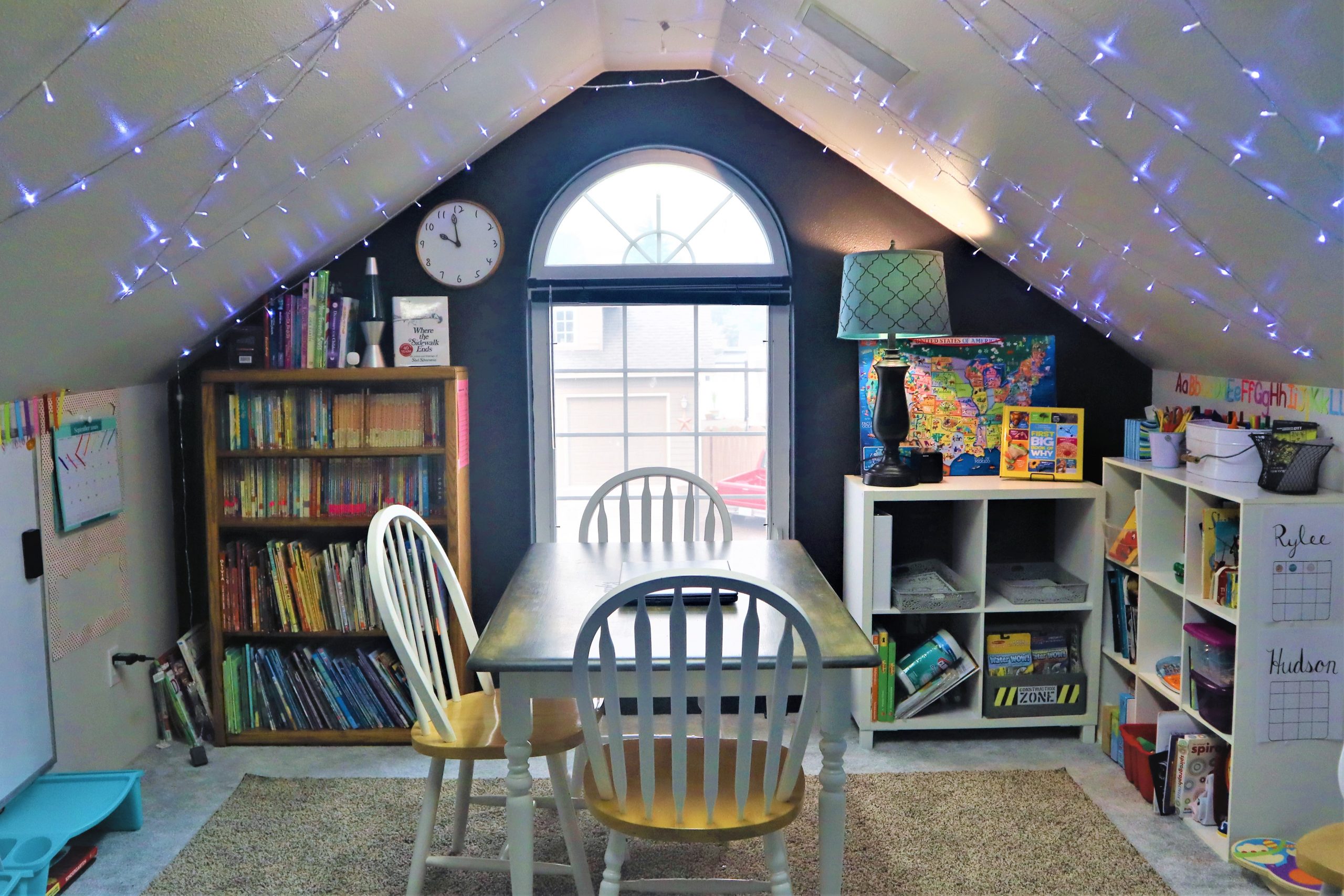 Attic transformed into practical learning space.
Jill Kraack, former child development specialist for Fullerton IV Elementary School, has transformed her home's attic into a virtual learning place. She created a workspace for her two children Rylee and Hudson to participate in Comprehensive Distance Learning.
"When creating this space my mission was to mainly use things we already had." Kraack said. "We bought some storage baskets for papers from the dollar store, used a metal silverware carrier we already had for writing and coloring supplies, and bought a table and chairs used on Facebook marketplace. I like the kids to be able to access things on their own so I look for open storage."
With distance learning beginning, it is important for kids to stay focused and have the resources they need to learn. This can be achieved by making sure they have a dedicated learning space. Here are six steps to creating a workspace that children will both use and appreciate.
Make sure to have a charged device connected to the internet to access classes. If you are experiencing technical difficulties, there are several resources for technical support. Michelle Knee, assistant superintendent of Roseburg Public Schools, said, "Students should always feel free to reach out to their teachers if they are having difficulties." RPS has also developed a tech support resource page on its website that provides additional guidance to support at https://www.roseburg.k12.or.us/students/tech-support.
Try to choose a spot you can go back to every time. Kids thrive through consistency. Kraack said, "When they know what to expect there is less battle to get tasks accomplished." This can be a spot at the kitchen table to a whole room full of learning resources, depending on your home.
Make it comfortable. The most important things to consider are a flat surface to write on, good lighting, and a supportive chair. Keep in mind that you don't want it to be too comfortable. In Kraack's virtual learning space, she used a second-hand kitchen table and chair set. She added a lamp for soft lighting and a rug to make it more comfortable.
Remove distractions. The goal of removing distractions is to make a peaceful environment for learning. Electronics, pets, and toys need to be put away. With limited space, it may not seem like an option, however make the most of what you have. Kraack said, "The other half of the space is still loaded with HotWheels and Legos but the school area is all business."
Create a space for storage of school supplies. This is a key aspect to the success of online learning. Students need a place to keep their school items organized and easily accessible. Kraack said, "My biggest suggestion would be to have a set spot to put things when you are done so school doesn't take over home. This could be a basket, a cube drawer, or even a backpack on a hook somewhere."
Decorate/personalize the area. Kids will be using this area often, so adding a little personality will make it more enjoyable to use. Think about adding a photo, artwork, or some lights to liven up the area.
Kraack offered some advice for families with several children, saying, "I struggled with teaching or occupying several kids of different ages last spring. I finally figured out that the more I included my 4-year-old in the school experience the better we all did. When my oldest would read, I would read to my youngest. I gave him little learning tasks while she worked and he felt like a pretty big kid."
As families attempt to navigate distance learning there will be challenges. However, with some planning and a little work you can create a space that will help your student with concentration and organization. The goal is to take away some of the stress and uncertainty of distance learning and replace it with confidence and structure.