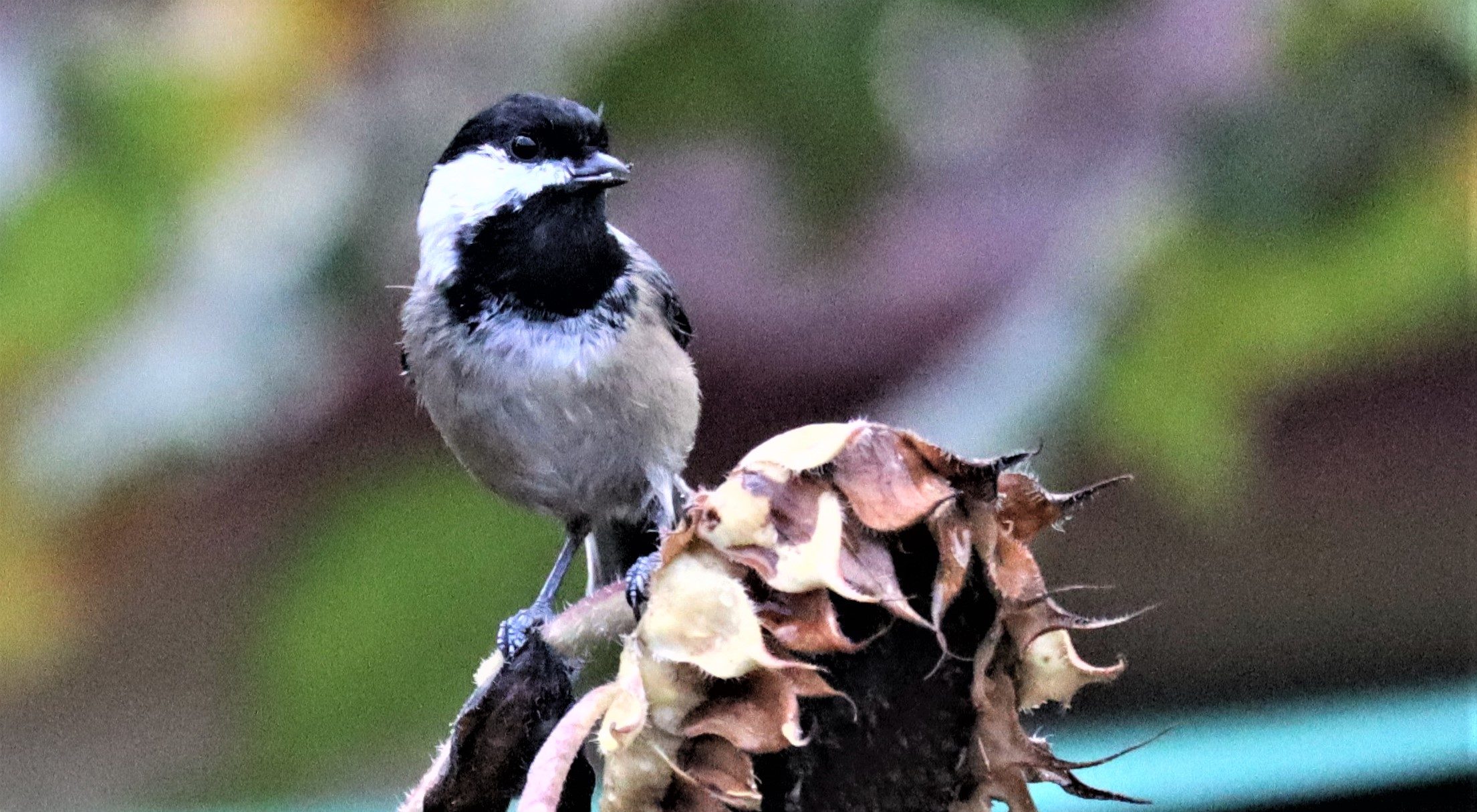 A black-capped chickadee, known as one of the happiest birds in the world, joyfully sits on a sunflower Monday in a Roseburg backyard.
Now is a great time to become a backyard birder! All you need is a quiet place to begin observing birds. To attract more birds, you can grow some bird-friendly plants, put up a bird feeder, or install a birdbath.
Bill Cannaday, wildlife habitat biologist for the Oregon Department of Fish and Wildlife, said, "One of the best ways to get started with backyard bird-watching is to just go outside, sit, and listen. We have such a tremendous population of birds and other wildlife in our area, you are sure to hear or see something if given time to watch."
A yard filled with native trees and plants is a great way to make birds feel at home. Some bird-friendly plants are chickweed, strawberries, sunflowers, dandelions, elderberries, grapes, and snowberries. To get a more complete list of plants that birds will appreciate in our area, visit www.audubon.org.
If you don't have a place for a garden, a bird feeder is a good alternative. Bill Fuller, Umpqua Valley Audubon Society treasurer, said, "It can be harder for birds to find food and water, especially following a dry summer. This means it may be easier to attract birds to feeders and water sources this time of year."
Matt Hunter, consulting wildlife ecologist and Umpqua Valley Audubon Society member, offers the following tips for backyard bird feeders:
-Make sure the feeder will keep the food dry.
-Try to reduce or eliminate access by rodents, especially rats that are attracted to the birdseed.
-Make sure there is some shrub or tree cover nearby to give the birds something to feel safe in.
-You can even just put a loose pile of brush or branches near the feeder that will give birds a safe place to flee or rest near the feeder.
Hunter said, "In our area, a simple bird seed mix works well, but supplementing with the same amount of black oil sunflower seed is really beneficial because a lot of birds like that. There are a lot of other things you can do to feed the birds too: thistle seed, suet, fruit, mealworms, etc."
Birdbaths are a great way to entice birds. Fuller said, "Birds do love birdbaths for bathing and drinking. There are even heaters that can be placed in a birdbath to keep the water temperature above freezing. Be mindful of safety in placing the birdbath." Fuller added that it is important to maintain the water and food in baths and bird feeders as birds will come to rely on them.
Umpqua Valley Audubon Society board member Stacy Burleigh said, "An alternative to a bird feeder to easily see birds up close and provide a necessity is a water feature. The options that work the best are ones that have a shallow amount of water that is moving. One example could be a circulating water fountain with a short uprising of water in the middle."
On Oct. 25, Ryan Finlay, creator of local blog Roseburg Tracker, reported that there has been a documented case of avian Pox in a local bird. Avian pox is a disease that causes growths on the infected bird's body and can be fatal. Keeping your bird feeders clean is essential to decrease the spread of bird diseases.
Cannaday said, "To prevent or reduce the spread of avian pox, or other wildlife diseases, ODFW recommends that people keep bird feeders clean. Clean the feeders at least every two weeks, and change any seed that appears spoiled or moldy. If birds are found to be sick at a bird feeder, then it is best to stop feeding for up to a month to allow birds to disperse away from the area, thus reducing their contact with each other."
Douglas County residents interested in birdwatching have a great resource. Fuller said, "The local Audubon Society supports a website: http://www.umpquabirds.org/ that has enough information to keep anyone busy learning and watching birds in our local area."
Burleigh said, "An important tip, that many new people to birding may not realize, is listening. Depending on your environment, it may not be easy to spot birds by movement, but bird calls or songs can alert you to a bird being nearby. With binoculars in hand, I liken it to a treasure hunt to find the bird."
If you are thinking of becoming a birder, Hunter said, "Just do it! Everyone's house or property is unique. Try different things. Observe, experiment, observe some more, and communicate with others about what you're seeing."