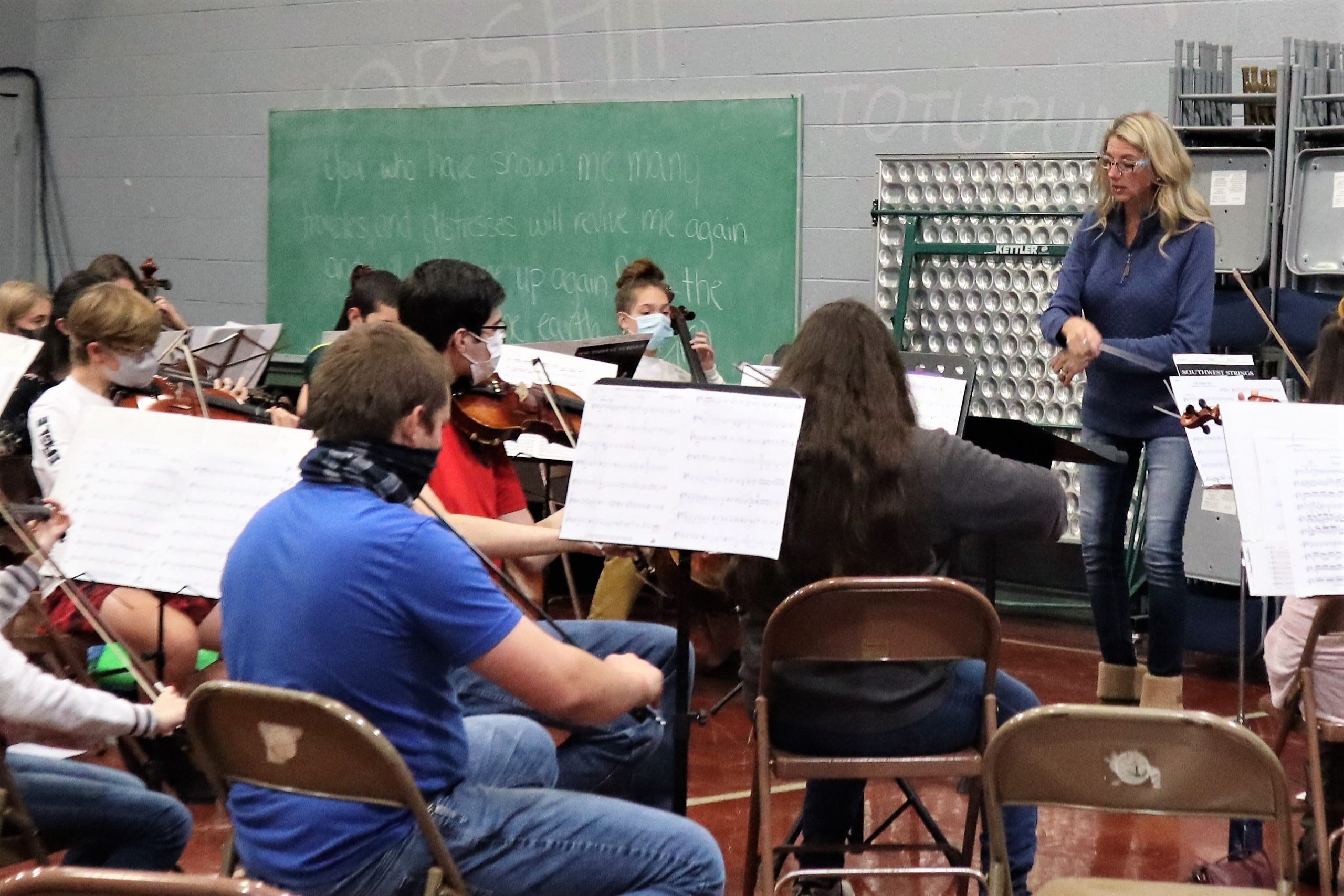 Umpqua Valley Youth Orchestra's founder, Kristin Parks, has been pursuing her passion of playing and teaching the violin since she was 5 years old. At the age of eleven, she began her own music studio. Later, she received her Bachelor of Arts from Pepperdine University near Malibu, California.
Kristin moved to Roseburg in 1998 and she began giving private lessons. Since then, her lessons have developed into the Umpqua Valley Youth Orchestra where she has 126 students playing stringed instruments.
Parks said, "We are a unique organization in that we teach students from day one. Most youth orchestras require years of lessons before you must audition for acceptance. We also own a large number of instruments that we rent at a very reasonable fee allowing students without means to provide their own instrument to participate. I love that all of our teachers have grown up in our program and understand my philosophy and are invested in our students, our program, and our community."
UVYO is meant to help children learn and grow as musicians and people.
"UVYO's mission is to provide the youth of our community a unique learning experience with stringed instruments as well as cultivating and inspiring music appreciation for all ages," Parks said. "It has always been my desire to provide a musical experience to anyone who is interested regardless of their financial situation. We have worked hard to keep our registration and rental fees affordable as well as providing scholarships when needed."
COVID-19 hit UVYO hard.
Parks said, "Last March we had to cancel classes and our spring concert, which was devastating to our students, but especially our seniors. My daughter was a senior and along with our other seniors they missed out on their final concert. We normally rehearse at the First United Methodist Church in town and they are not allowing outside organizations due to COVID."
When Umpqua Valley Christian School opened in the fall things started to turn back around. Parks said, "Luckily, Umpqua Valley Christian School opened its doors and allowed us to rehearse. During rehearsals, we maintain social distancing so students have their own stand rather than sharing a stand with another musician. It isn't an ideal situation as our spacing makes it harder for the students to hear each other but we are happy to be meeting and making music together."
Many good memories have been made over the years with the UVYO.
"I love that 2 of our previous students who played in orchestra together, started dating and are now married with a beautiful family. I also love that one of our previous students is now a mom and her daughter is playing in the orchestra. All 3 of my children grew up playing in the orchestra and they are all in college now so this is my first year in many years without a child in the group," Parks said.
UVYO student Mya Snyder, 12, of Roseburg said, "I love how close we are and how many opportunities we get to teach, play, and do community service."
She added, "I love the cello, I think it is one of the prettiest instruments. It sounds very warm and rich."
The board of directors works hard for the UVYO. Parks said, "The UVYO Board of Directors always does an amazing job of all of the behind the scenes work, which allows me to focus on the students and the musical side of our operation. I am so grateful for the endless hours of keeping us up and running."
Kristin Parks is very dedicated to teaching music. "I have always loved being around kids and I am so blessed to be able to share my love of music with them. I can't imagine not teaching and being a conductor and seeing these kids weekly. I love watching our students form new friendships," she said.