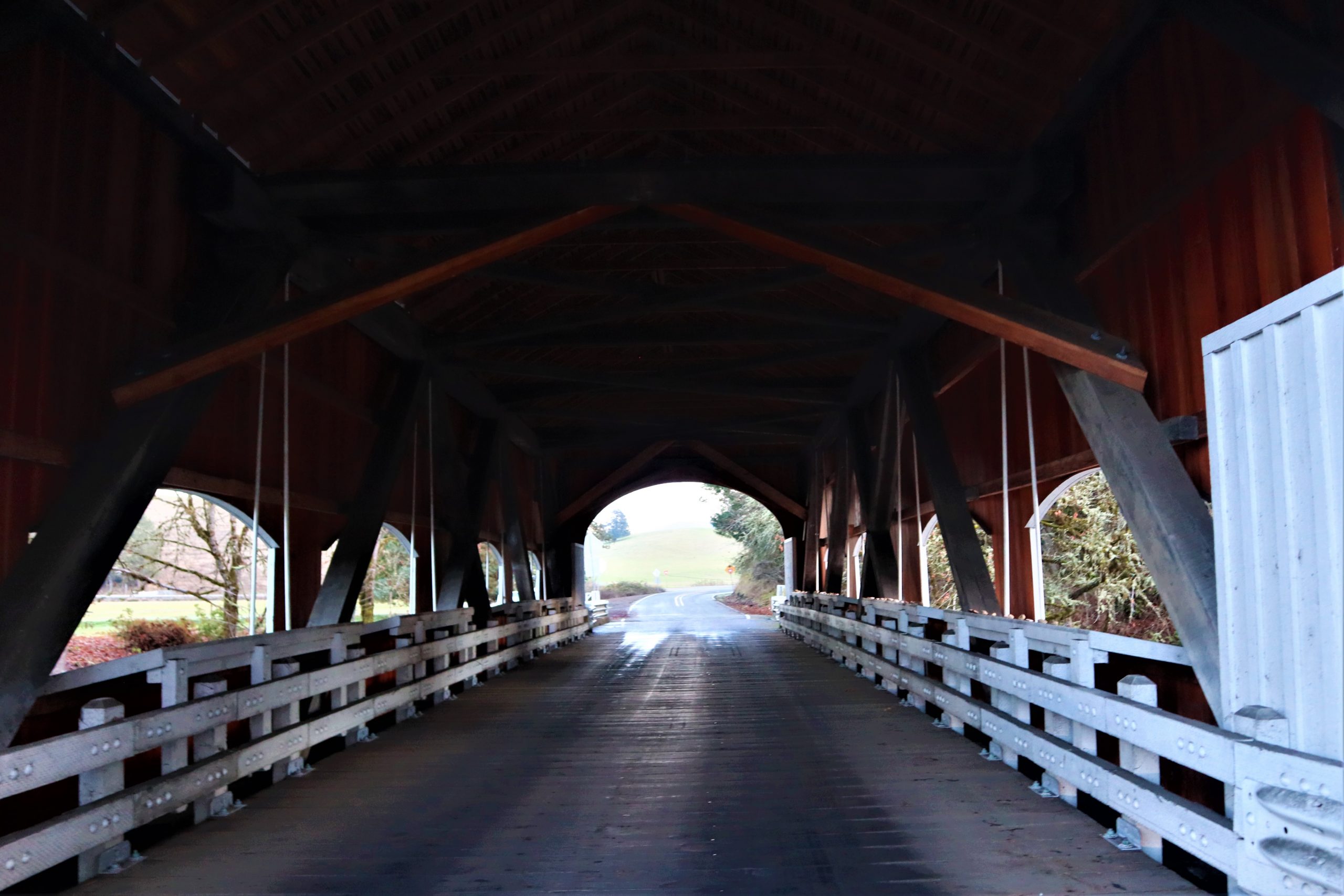 Inside Rochester Bridge on Dec. 8th 2020.
In the 1800s and 1900s, there were at least 36 covered bridges in Douglas County. Now, only six remain. 
Judy Prindel, a member of the Covered Bridge Society of Oregon, said, "They were built way back in the early 1800s for several reasons — weather, to herd stock from one side to the other over waterways. Some people would get caught in storms and took shelter in them."
According to the bridge society's website, the bounty of Douglas Fir and the lack of steel during the world wars extended the production of covered bridges into the 1950s. A wooden bridge was covered to keep the vast support planks dry. A covered bridge could last 80 years or more. However, an uncovered bridge would decay in about nine years.
Prindel said, "At the time they started building bridges, trees were what was available to them."
Many people contributed to building the bridges.
"It started with the local farmers and friends. Then in more modern times there was actual contractors that built them," said Prindel.
Prindel treasures covered bridges.
Prindel said, "I wanted to help save our heritage as much as I could, and I love covered bridges. Some of the men in my family were bridge builders. They helped build several bridges in Lincoln County. Bridges are just in my blood. I loved the people I was able to meet."
Pass Creek Bridge on Dec.18, 2020.
Pass Creek Covered bridge is estimated to have been built in 1925, but there is evidence that it may have been constructed as early as 1906.
"This bridge has been under restoration for quite some time," Prindel said. "They are in dire need of funding to get it finished. Then it will be open to the public again." It is located in the city of Drain, behind Drain Civic Center at 205 West A Street.
Milo Academy Bridge on Dec. 28, 2020.
Milo Academy Bridge was built in 1962. It is Oregon's only steel bridge housed in wood. The bridge is located east of Milo at Milepost 20.5. The Covered Bridge Society of Oregon's website states, "Since 1920, residents have had a covered bridge serving the academy across the South Umpqua River. When the wooden covered bridge was replaced with a steel span, the community felt it had lost a part of its identity. The steel structure was then modified to include the wooden housing, and today the white covered bridge stands as a reminder to the residents of their previous covered bridge."
Rochester Bridge on Dec.8, 2020.
Rochester Bridge was built in 1933 by Floyd Frear, a Douglas County engineer. It had to undergo extensive construction in 1969. The Rochester Covered Bridge stands 3 miles northwest of Sutherlin in the farmland around the Calapooya River. This bridge has a unique design with a curved entrance and windows. The bridge society's website states, "In the late 1950s, a nearby covered span was torched and destroyed by a county crew to make way for a new concrete bridge. Rumors had spread that the Rochester bridge would meet the same fate. Many local residents, fearful that those same county workers who favored progress would wait until nightfall to burn the Rochester Bridge, sat through the night with guns and rifles to safeguard the dilapidated structure. With the arrival of daylight, the bridge was safe. County commissioners then promised the residents the bridge would not be burned."
Neal Lane Bridge on Dec. 28th, 2020.
Neal Lane Bridge was built in 1939 by Floyd Frear as well. This bridge is relatively small, being only 42 feet. "I call that short," said Prindel. The bridge's narrow windows make it appear even smaller. It has a unique kingpost truss design. Most of Oregon's bridges were built with Howe trusses. It is south on Days Creek Cut-off Road to Neal Lane.
Horse Creek Bridge on Dec. 28, 2020.
Horse Creek Bridge was built in 1930 in Lane County, where it spanned Horse Creek. It now provides access to a parking area for Mill Site Park in downtown Myrtle Creek. It is open to foot traffic only.
Cavitt Creek Bridge on Dec.12, 2020.
Cavitt Creek Bridge was built in 1943, also by Floyd Frear. This bridge was named after Robert Cavitt, a settler that lived in the area. This bridge is located about seven miles south of Highway 138 at the intersection of Little River Road and Cavitt Creek Road. The Covered Bridge Society of Oregon's website says, "The bridge has a metal roof and a floor with longitudinal running planks. The covered structure sits on concrete piers."
Douglas County is fortunate to have these pieces of the past to see. They are a glimpse into a different time. If you want something fun to do, consider checking out some of these fantastic bridges! Prindel said, "They are beautiful, historical, romantic, and nostalgic."
Pass Creek Bridge and its surroundings on Dec.18th, 2020.
Milo Academy Bridge opening on Dec. 28th, 2020.
Front view of Neal Lane Bridge on Dec. 28th, 2020.
A lookup inside the Horse Creek Bridge on Dec. 12, 2020.
Side view of Cavitt Creek Bridge on Dec. 12, 2020.