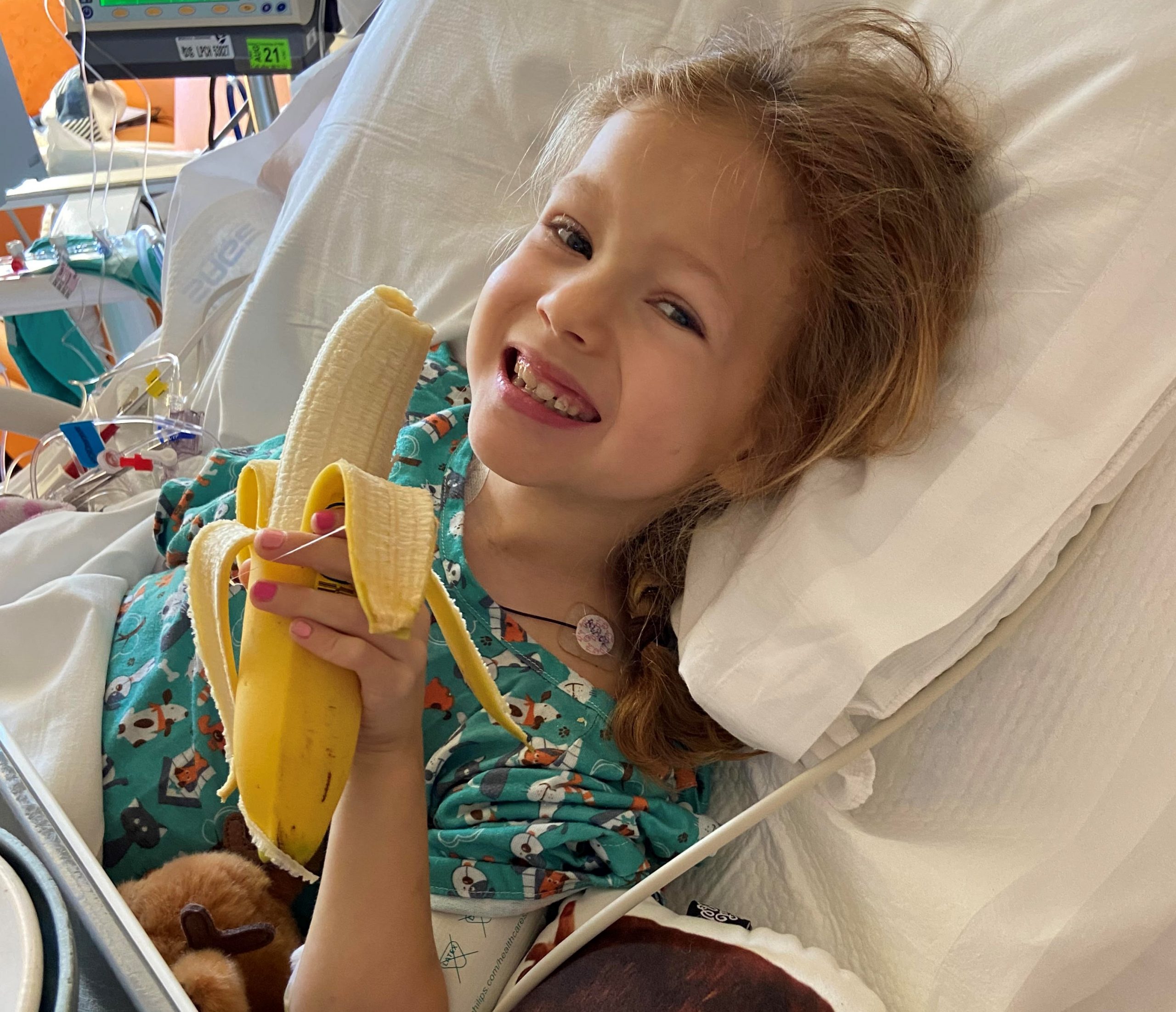 Devree Guido enjoys her first banana since June due to diet restrictions just one day after surgery that took place on the 19th. All photos courtesy of Jessica Guido.
Devree Guido was scheduled to have a kidney transplant on Dec. 22 at Lucile Packard Children's Hospital at Stanford University in Palo Alto. On Dec. 19, Devree and her family were informed that another kidney was available.
"Her surgeon received an offer to be the backup for a kidney that had no antibodies to Devree (a very good match) the evening prior and informed us we were the backup, and if the organ seemed like a good fit for her, she wanted to take it," Jessica Guido, Devree's mother, said.
Originally, Devree's second cousin, Cailey Powell, was scheduled to be the kidney donor for Devree.  
Devree was already in the hospital recovering from the bilateral nephrectomy, the surgical removal of both kidneys, which was done on Dec. 8 to prepare space in her body for transplant.
"At midnight, we found out that we were now the primary offer and signed papers," Jessica Guido said. "That night was a whirlwind of surgery prep in the hospital."
But so far everything is going well with Devree.
"The surgery went well but was very long as her history of prior surgeries made challenges for the team," JessicaGuido said. "She went in at 6:30 a.m. and wasn't out until 3:30 p.m. She was placed in pediatric ICU for monitoring, and her new kidney made urine immediately."
Now, just weeks after her surgery, Devree is feeling good and healing nicely.
"She is doing great. If you saw her, you would never know all she has been through so recently," Jessica Guido said. "She is running and playing like any other 7-year-old."
Devree Guido, excited to eat some crab! Jan. 3
Devree was born with Autosomal Recessive Polycystic Kidney Disease. She had further complications with liver fibrosis, and by the time she was 2 years old, she needed a liver transplant.
Jessica Guido, gave a piece of her liver to her daughter in hopes of helping her, but it got killed by blood clots. Devree received an urgent transplant two days later from their "angel" Melissa. Her kidneys started working again, and she was able to come off dialysis, and the new liver was working well.
At this point, her family knew Devree would eventually need a kidney transplant due to her type of kidney disease. Autosomal Recessive Polycystic Kidney Disease is a progressive disease in which cysts grow and take over functioning portions of the kidney. In June 2020, her kidneys could no longer support her body's needs.
Now, Devree has a new kidney. She has to live near the hospital for around six weeks for monitoring.
"They are discussing the possibility of coming home the week of Jan. 18 if her labs continue to look so well," Jessica Guido said, "She misses her family and our ranch. She misses our friends and her guinea pigs Rocko and Jack. She sleeps with a picture of her guinea pig Rocko in her bed."
Despite missing home, Devree still enjoys herself.
Jessica Guido said, "She loves the craft projects they bring by for her to do and music therapy. They have a lot of things for children to do through their incredible child life therapy programs."
Jessica Guido encourages people to register with United Network for Organ Sharing, an organization that provides support to transplant recipients and donor families, to be an organ donor.
There are nearly 2,000 children under the age of 18 on the national transplant waiting list. "From a tragedy, organ donation can bring life and light into the world. Devree is proof of this incredible gift," said Jessica.
"We want most of all to thank the donor and family who decided to give Devree her kidney and the Stevens family for her liver," Jessica Guido said. "Melissa lives on in Devree through that selfless act. Our kidney donor is still unknown to us, but we are forever grateful for their choice and feel sorrow for their loss."
Devree at the beach thanking her donor! Jan. 2