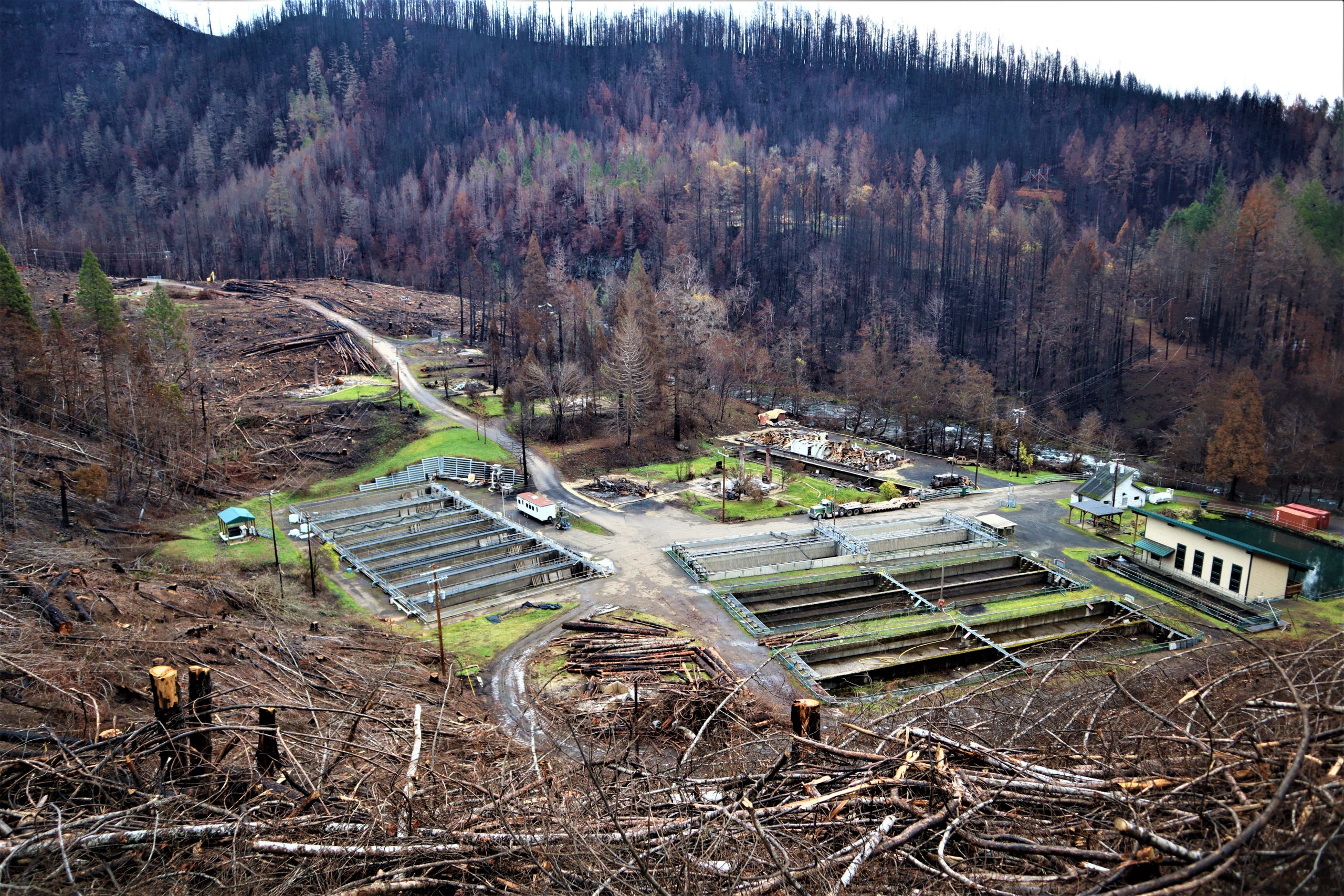 The devastation at the Rock Creek Fish Hatchery in December 2020.
Starting on Sept. 8, 2020, and contained on Nov. 16, the Archie Creek fire destroyed 111 buildings, including the Rock Creek Fish Hatchery. Dan Meyer, the Rock Creek Fish Hatchery manager, said they lost juvenile fish, 15 structures, numerous pieces of equipment — including a fish tanker truck, backhoe and Hyster forklift.
"We lost 160,000 winter steelhead, 60,000 cohos, and 200,000 spring chinook," Meyer said.
In regards to fish rescued, Meyer said, "700 adult brood fish spring Chinook and summer steelhead and 800 Coho juveniles." The adult fish that were saved got transported to Cole Rivers Hatchery and the 800 coho juveniles are being raised to smolt at the Deer Creek Elementary School facility by students to be released this spring.
According to the Oregon Department of Fish and Wildlife website, "The present facility was constructed in 1925, across the North Umpqua River from an earlier trout hatchery built in 1920. The hatchery was closed in 1975 due to low stream flows and high water temperatures and was reopening in 1979 after extensive reconstruction. In 2012 a state-of-the-art fish passage ladder was completed. It included a fish viewing window for Rock Creek basin fish inventory and a fish trap facility. The hatchery produces fall and spring Chinook, coho, summer and winter steelhead, and rainbow trout. The facility is used for adult collection, spawning, incubation, and rearing of Chinook, coho, steelhead, and rainbow trout."
Meyer said to help, "Voice an opinion to our representatives in government. Volunteer whenever possible or called upon."
There are plans to rebuild the Rock Creek Fish Hatchery.
Meyer said, "We will build back better, but it will be in small increments. And we will continue as we rebuild to raise fish for the Umpqua watershed basin."
Reconstruction will begin as soon as all of the debris from the devastation has been cleared. It will be implemented by the Department of Environmental Quality, Oregon Department of Transportation and Douglas County. Buildings and equipment are all in need of being replaced.
Meyer said reconstruction will include "testing and cleanup of hazardous materials, recycling of metal and concrete, cleanup of ash and contaminated soil."
It is estimated that it will take 3-4 years to rebuild and be operational. "We will determine numbers and species to be reared on-site for 2022."
However, not all of the facility was lost. Meyer said the parts saved are "The North Umpqua pump station, the generator building, the ROCK-ED education classroom, 16 raceways, two fish ladders." He added, "The rebuild isn't happening as fast as expected. There are a lot of agencies coordinating to make this happen, and we always anticipate things to happen faster than realistically occurs."
Hopefully, the hatchery will soon again hold fish.
Meyer said the hatchery's goal is "To protect and enhance Oregon's fish and wildlife and their habitats for use and enjoyment by present and future generations."